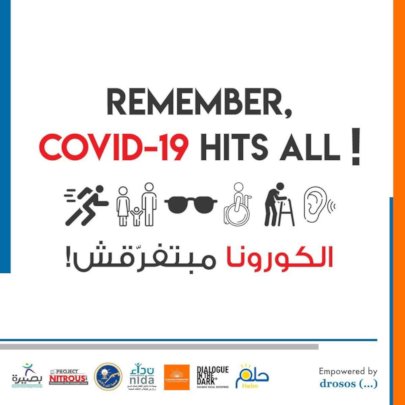 Dear Alhassan donors, supporters and believers,
As you all already know, the world is facing the threat of the coronavirus and we all need to work together to fight that pandemic and flatten the curve. That can be done by raising people's awareness on how they can protect themselves and others by sharing some tips and techniques that can effectively lower the infection rate.
As a foundation that serves wheelchair users, we shared on all of our platforms tips on how people can protect themselves and keep their wheelchairs – which they are in constant contact with – clean.
Furthermore, in cooperation with various NGOs, we are working on a campaign called "Remember, COVID-19 Hits All!". Under that hashtag, NGOs are providing content that helps differently-abled people protect themselves against the Covid-19 pandemic. Since every person face different challenges and has different needs, we collaborated to provide infographics – in Arabic – that instructs people how to protect themselves.
We shared the content we already made for wheelchair users and we made an extra post for people who use different assistive devices like canes or crutches. That post offered tips on how to keep their assistive devices clean to prevent picking up infections through them.
These tips were based on a survey we made for our employees (wheelchair users) and our beneficiaries. These posts caught the attention of the public in general and challenged people in particular since there wasn't such content available in Arabic.
Stay home. Stay safe. Save lives.
Thank you dear donors for your donations; your support is what enables us in our mission so we urge you to continue supporting our cause and stay loyal donors to our cause through subscribing to a monthly recurring donation option. That will help kids on wheelchair in Egypt be more confident and accomplished.

Please visit our Facebook page to read other success stories:


https://www.facebook.com/AlhassanFDN/


Thank you for believing in the differently abled. :)