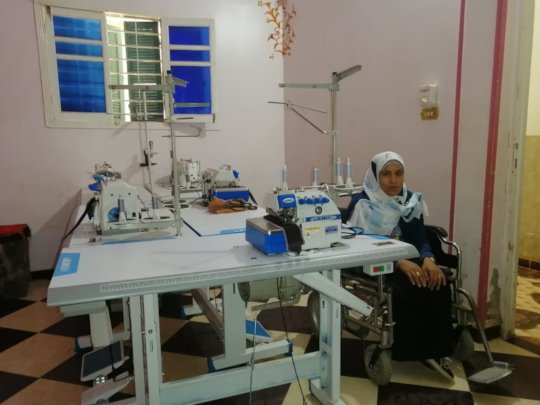 Dear Alhassan donors, supporters, and believers
At Alhassan Foundation, we do our best to overcome the various challenges that face the differently-abled individuals through our eight developmental projects. The "Source of Income" project focuses on the financial independence aspect in wheelers' lives.
Our project helps not only the differently-abled individuals but also plays a major role in improving their entire families' lives. To cover the different beneficiaries'' needs and backgrounds, the project branches into three subprojects:
1- Funding SMEs
2- Occupational training
3- Employment and networking
Through your donations in the past months, we were able to provide financial independence and physical independence for many members of AlHassan Foundation. These projects not only changed wheelers' lives, but they also impact their entire family's lives and improve their financial status.
Here is a wonderful story that shows the difference that AlHassan Foundation can make for its members who use wheelchairs, Abeer is a 30-year-old woman with polio and muscular dystrophy. Although she was severely injured and used a wheelchair since childhood.
However, she did not succumb to this injury, and decided to help her family, which has limited income. Abeer's family consists of her father and mother, in addition to 9 sisters and a brothers, her father works as a farmer with a daily wage.
Therefore, she insisted on helping her family by utilizing her talent in embroidery and tailoring clothes, Abeer did not only think about herself and her difficult circumstances, but she took upon herself her entire family, and this is the best evidence that her will and determination can overcome any obstacle.
I would like to remind you all that without your support and your generosity, it would have been impossible for any of this to be achieved, or for that smile to be drawn on the face of this family.
We want to thank every donor or supporter who helps us to achieve this success and we urge you to continue supporting us in our case, our hope, our dream through subscribing to monthly donation which helps us secure more funds to help more wheelchairs users and their families.
If you have any job opportunities or know someone who can help with employment the wheelchairs users please don't hesitate to contact us at recruitment@alhassan-fdn.org
Please visit our Facebook page to read other success stories:

https://www.facebook.com/AlhassanFDN/

Thank you for believing in the differently-abled. :)