Dear Friend,
In India, more than 13 million girls under 19 years of age are married. This accounts for 3.8 per cent of total married women in India. Study says that girls married too young who are incapable to even give a legally valid consent are more helpless to violence and sexual abuse. At Milaan, we invest in building knowledge and skills of adolescent girls to end Child marriage, gender-based violence and discrimination etc through the Girl Icon Program to accelerate the achievement of UN Sustainable Development Goal No 5 to achieve gender equality by 2030 and build a movement of Girl Leaders called Girl Icons.
One of the Girl Icons Shiksha* has been recently selected along with 200 other adolescent girls from low-income communities in the Girl Icon program from Uttar Pradesh for a 2-year long leadership development journey. The state, Uttar Pradesh alone accounts for 21 per cent of India's female adolescent population.
She lives in a small village in Uttar Pradesh. She is an optimistic 14-year-old studying in grade 9th. Her father is a farmer and mother a house maker, she also has an elder sister, 20 years old pursuing her Bachelor's. The family together lives in a small room.
Growing up Shiksha* used to aspire to be a policewoman but now she seeks to be a teacher and work within the community and teach the children. She shares happily 'my parents don't ask us to do any household work which gives me ample time to study.' Her sister will soon be married off and will start a new family. Shiksha* has a very special bond with her father and is much close to him than her mother. Her mother often places a lot of restrictions on her but her father continues to motivate her. She joined the Girl Icon Program to foster young girls towards education and encourage a more progressive attitude in her community members towards education especially of the girl child.

Shiksha* shares 'the girls in my community are very friendly and soon after the first leadership residential training I was able to form a peer group of 20 Girls'. After she conducted her first peer meeting in the community, she was approached by a mother of two girls in her community who were being forced into child marriage by their father. The mother is separated and her daughters were not allowed to live with her, helpless with the situation the mother informed Shiksha* to take action. Along with her peer group, all the 21 girls together decided to stop the child marriage and went to their house. Even after a persuasive dialogue, the father was not convinced to stop the marriage. Shiksha then decided to seek help from the police by dialling the police helpline 100. The intervention was a success. The girls have now returned to their mother and live with her. One of the girls has also joined Shiksha's* peer group and along with everyone advocates for girls' rights.
Adolescent girls like Girl Icon Shiksha* are able to stand up, raise their voice and take charge of their lives and the communities they come from. They are actively advocating for their rights and building knowledge of other adolescent girls through your continued support.
*Name changed.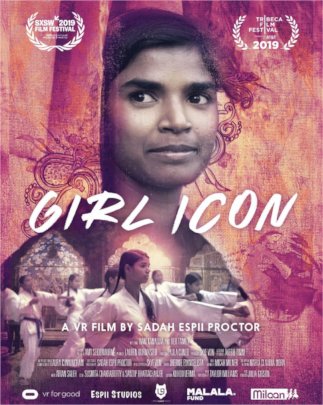 Dear Friend,
We hope you remember our last update on our phenomenal grassroots girl leader Girl Icon Rani. Rani is among the 120 million adolescent girls in India. India is home to largest number of adolescent girls in the world, with a large number of girls living in underserved communities where the deep-rooted social norms along with lack of agency and skills restrict them to explore their full potential. Rani hails from Varanasi in Uttar Pradesh, India. The state Uttar Pradesh alone accounts for 21% of the total female adolescent population in India. Over the years we have learnt that when girls are given spaces to explore their potential and to be heard, they develop self-confidence and self-worth. That is why our work focuses on laying emphasis on training and educating girls on social issues, their rights, leadership skills (communication, negotiation etc.) and giving them opportunities to show their ability to implement social action as a collective.
Milaan recognizes outstanding change makers like Rani who seek to make a difference in their communities. Rani is a go-getter in spite of her weak financial background, She makes the best of every opportunity and works effectively with adolescent girls to drive intergenerational and systemic changes to create an equitable and inclusive community. "I want girls to look at me and think they can achieve anything they want," says 17-year-old Rani. Our lives are driven by stories, stories of common people driving uncommon change in pursuit of creating a better world. When these stories are of adolescent girls from some of the most challenging social, economic, and political backgrounds; they especially fuel and impacts a belief towards nurturing girl leaders to create a more equitable world.
Rani's journey, aspirations and determination to serve as a role model to adolescent girls in her community and build a movement of girl leaders was documented through a virtual reality film called 'Girl Icon'. On March 11th "Girl Icon" DEBUTED at SWSX in Austin, Texas. The film is directed by Sadah Espii Proctor, this project is part of the Oculus VR for Good Creators Lab program in partnership with Malala Fund, produced by little GIANT Wolf. "Girl Icon" features our incredible #GirlIcon Rani. We are making plans to show the film in India. Follow us on Instagram at milaangirlicons, facebook - Milaan be the Change and Twitter - Support Milaan for future updates about Girl Icon and our talented girl leaders!
Through your continued support, we will continue to build a movement of Girl Leaders who will dare to dream and live in a just and equitable world. Empowered girls are a powerful catalyst to change development outcomes and are a force of social change.
Rani makes most of every opportunity given to her whether its in classroom or excelling in sports. She happily juggles between attending school, practicing karate or roller skates and helping her mother. Rani is spontaneous and through the program she has built her leadership skills to mentor young girls in her community. Most girls in India do not attend school. Estimates shows that only one out of 100 girls attend school. According to UNICEF 47% of all girls are married before the age of 18.9
Rani is an advocate for girls' empowerment. "I want to promote education of girls and tell them that they can be anything," says Rani. However, her community's view isn't the same: they push girls to do household chores, get married young or stay at home. Additionally there is enormous resistance from adults to listen to girls
"I want to be an Army Officer and encourage girls to break barriers holding us back," says Rani. She is determined to walk in a path no one has before in her community. The occupation of her community is often determined by their caste, a Hindu system of social hierarchy. Rani comes from a community belonging to the Dhobi (washer man) caste – a caste that follows their traditional occupation of washing and ironing clothes.
Since becoming a Girl Icon, Rani feels more confident. "I have an identity of my own," says Rani. As part of her projects to drive social change, Rani organized a campaign in her community in Varanasi to understand "why women are always the subject of verbal abuse". "We interviewed people from diverse backgrounds, from police officers to pandits and shopkeepers. My motive was to aware people about violence against women and to teach them to be respectful towards women," says Rani.
Rani continues to dream and forge ahead in her life and bring change in her community through your support. India is home to the largest number of adolescent girls. Adolescence is a critical time of transition to adulthood, most girls often loose their voices and become vulnerable due to lack of opportunities. Investing in adolescence girls has a colossal multiplier effect on children, families and communities. They can break gender norms and up lift social and economic condition of families. Your continued support will help build many more Rani's and bring change in many such lives.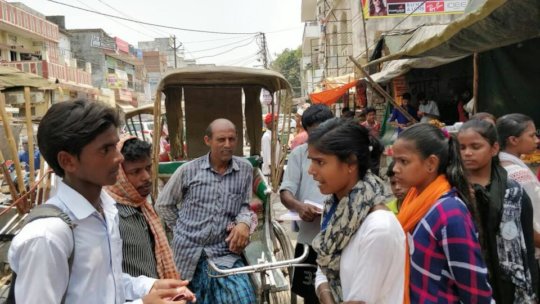 WARNING: Javascript is currently disabled or is not available in your browser. GlobalGiving makes extensive use of Javascript and will not function properly with Javascript disabled.
Please enable Javascript
and refresh this page.