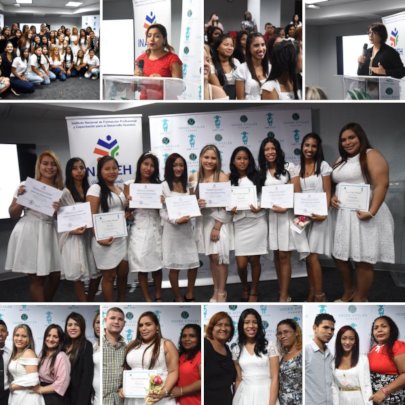 First of all, THANK YOU for your donations and on-going support for The Las Claras Program. Your actions have been key in establishing the program and getting settled in our home in Felipillo.
In september we were proud to graduate our third group of teenage mothers who, after 18 months, successfully got to the finish line of our program. With the presence of our benefactors, donors, and helping friends, the graduation was full of emotional moments, scholarships for the best students, and even a surprise job placement for one of our students. "Getting to this moment has not been easy. It has required a lot of effort and dedication, but above all to have the motivation to do it. Today I not only believe in myself, but I've found the strength, hope and support system to fight for my own future and that of my baby.", stated Wendy Ocampo, in her speech as class valedictorian.
Currently, our groups in the Felipillo and Santa Ana communities have also continued to receive a variety of workshops and classes, on top of the fixed syllabus. Furthermore, during September, our own staff at the two centers received workshops on warning signs of emotional wear and self-care, receiving tools to maintain a balance while providing care to populations at social risk.
Last but not least, we have another graduation getting near! Our fourth group of teen moms have started with their professional internships through our initiative Mi Primer Salario ("My First Salary") as an alliance with different private companies. Through this program, our teen mothers have the opportunity to do a professional internship with distinguished companies. Their efforts have paid off, and they have demonstrated their capacity to work for these following enterprises: Grupo Melo, Alcogal, Prival, Ecocaribe, Grupo Arrocha, Arvec, Varela Hermanos, Canal de Panamá, Monte Azul, Coronado Es Vida, Reprico, Dentons, Servicios Contables Pineda, CEINSA Constructora, y Natuviva.
As you can see, we´ve come a long way during these past months. The teen mothers at the Las Claras Program have received care, education, and continuous support which allows them to find empowerment previously unknown to them. Furthermore, our own statistics keep showing us the powerful effect of our program within their lives even after graduation: none of our student graduates have gone through a second case of early pregnancy (highly common amongst this vulnerable population), all of our graduates have stable, and above minimum wage employment, all of our graduates are empowered to believe in their own potential to achieve goals and dreams. By graduating two classes per year since 2017, we're giving our 1000% to break with poverty and teen pregnancy cycles amongst vulnerable areas in Panama.
Still, the reality in our country is one that requires further action: only during 2017, there were 9,086 registered cases of teen and child pregnancy, meaning that around 30% of total pregnancies in our country belong to a child or teen mom. A number that doesn't include cases from Social Security Fund, and private clinics. Furthermore, this number keeps on increasing every year, as every teen mom will most likely have a second child during the next 24 months. Worst of all, 75% of these girls will abandon schools. They will lack a plan for the future, self-esteem and confidence to pursue their dreams, a job to support themselves and their babies, and will add numbers to the cycle of poverty that pervades their environment.

Once more, we THANK YOU for your continuous support in this quest for a better quality of life for teen mothers and their children. PLEASE keep donating and invite others to join us in this quest with their donation!

More action still to come. Stay tuned :)