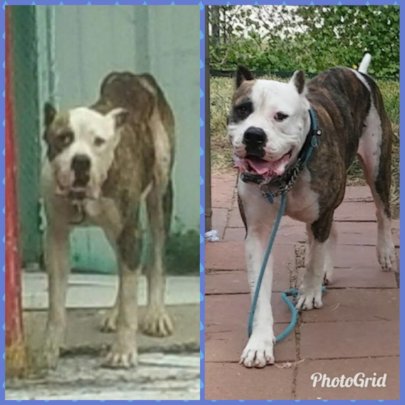 Hello shelter friends!
It's been such a special season here at the Humane Society of Dallas! We've been so encouraged by the special cases that we've taken care of find their forever homes! There are so many instances of animals coming through the shelter with whom we develop a fondness for, but none are more endearing to us than those who need more care and consideration than the average candidate.
One of those special cases was Argentino (first written up here as Buddy) who our shelter director, Sandra, rescued from an abandoned store where he'd been living. As a large, heavy set dog breed it was unbelievable how badly emaciated he was and how timid of human contact. Getting him to the shelter took a patient effort and working with him once he was here to help him gain weight and socialize well took additional time and effort. With his foot pads in tender shape, his teeth having been filed down, and his cautious dislike of most men, it was understandable that Argentino couldn't just be placed anywhere. A couple came into the shelter who not only had worked with several large breed dogs of his temperament, but also live on a large expanse of land, and wanted to give Argentino a forever home. After a year and three months he was finally able to go to his forever home.
As a no-kill shelter, we will not euthanize Feline Leukemia positive cats, but believe in giving them a chance for a forever home as well. Feline Leukemia positive cats can require more focused attention due to their medical needs, but Ham arrived in need of serious attention. He also had been found living on the streets. He was very underweight, and he had a calicivirus infection which resulted in a severe upper respiratory infection. This myriad of medical issues, complicated by his FeLV infection, necessitated him spending two months in a medical cage so that he could be nursed back to health. Despite being found on the streets, Ham is a sweet cat, but he also vocally chased visitors around the room for attention. A family who adopted FeLV cats from our shelter in the past felt it was kismet when they had the name "Hamilton" in mind for their next cat and met Ham, whose irresistible nature could not be passed up. Since being adopted by them, Ham, now Hamilton, has been the perfect companion to their family and is, once again, proof that some of the best companions come from the most difficult circumstances.
Some of our best circumstances can come from those animals who are found, not only roaming the streets, but those who are first considered to be feral. In so many areas of our city, there are "communities" of feral cats who haven't been spayed or neutered, which, in effect, adds to an already overwhelming overpopulation of indigent cats in our neighborhoods. The shelter has taken on the process of what is colloquially known as the "TNR Program", which is Trap, Neuter, Release for animals who are not suitable for homes. Last year alone we did TNR for 156 cats, the majority of which are released in a safe place outdoors. Every so often there are cats who, in spite of the environment in which they were found, turn out to be social. Hope was one such cat. She was caught in the trap and taken to a vet to be spayed. Afterward she was evaluated and not only was she not feral but it turned out she enjoyed being a lap cat who solicited for belly rubs! It was another successful adoption into a forever home where she can be taken care of and loved.
This year the shelter is focused on getting a new vehicle for the dogs to our off-site events. The current van was never designed as an animal transport, therefore, we've had to adapt climate control to make them comfortable in temperature extremes. The brakes are initially very touchy upon start up, and the stresses of transportation has only contributed to the general body fatigue of the van. We're eager to have a vehicle that can accommodate our animals safely and easily to all their events.
It is no exaggeration to say that it takes stamina, perseverance, fortitude, and sympathy to be an animal caretaker and advocate. It's also no exaggeration to say that much of that ability to continue to do what we do, is spurred on by your devotion to the well-being of animals. With your support we can all continue to work together to make North Texas better for all the animals in our community.