While I lived in Rwanda for 8 weeks, having the most incredible experience of my life on GlobeMed's GrassRoots Onsite Work Internship, I was fortunate enough to visit the Hygiene Program with the program's director, Lucien Nzayirata. In addition to being a student studying Agriculture at the National University of Rwanda, Lucien is in charge of ensuring that the Hygiene Program runs smoothly throughout the year. As he described to us, the Hygiene Program strives to educate local villages about proper and healthy hygiene, choosing one primary school per year where volunteers in the program will help to teach education sessions about hygiene. Volunteers in the Hygiene Program also visit the homes of many of the children's families and conduct at home education sessions. At the end of the academic year, RVCP volunteers select four families from those they visited and build a toilet at each home, giving the family the chance to have a happier, healthier, and more hygienic home.
I accompanied Lucien to a local primary school to observe an education session. The children, whose ages ranged from about 7-12 years old, were very enthusiastic to learn and to respond to what Lucien was describing. Lucien spoke energetically and did a fantastic job of engaging the children about various topics, such as how to properly store water, how to handle foods to be cooked, and how to maintain proper personal hygiene with regards to Rwandan etiquette. The Hygiene Program at large develops a manual of information to disseminate amongst its volunteers who teach education sessions so as to standardize and regulate the information given to the students and their families.
I was very impressed both by how well Lucien's messages seemed to be received by the kids and also by how great of a teacher Lucien was. By reaching out to rural primary schools, actively engaging these children at a young age to follow proper hygenic practices, and attempting to spread hygenic knowledge and capacity to their families, RVCP is truly making a difference in the lives of rural Rwandan families through its Hygiene Program.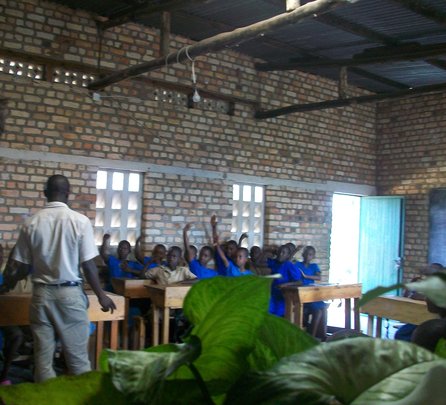 Links:
the project activities which are teaching sessions at primary schools on hygiene,water and sanitation especially on hand washing at critical moments,home and school hygiene,body hygiene,cloths ...are the main topics which are covered in each class for student in order to maintain the good hygiene standards and health in general.
the project have finished teaching sessions at nyanza primary for 2011 academic year where volunteers discussed the hygiene and sanitation with about 800 students including staff.now 2012 academic year the project will continue to educate hygiene ,water and sanitation at the other schools up to october at the end of academic year ,the teaching sessions had begin in january at the beginning of the academic year 2012 .
students,staff and parents of students from MATYAZO PRIMARY SCHOOL which is the new school where the teaching sessions are being done are very happy for the initiative of volunteers from hygiene,water and sanitation program who will be with them for this period of the 2012 academic year while increasing the awareness on hygiene and sanitation,"we will learn more on hygiene and sanitation from you" said the headmastress of the school.
Over the last few months, we have been unable to continue this project due to lack of funds. Our ultimate goals are to provide an educational program for a total of 2400 children that will teach them proper hygienic techniques for hand washing and maintaining clean water and to install water systems in the three schools that will improve the children's access to clean water. We are also currently undergoing a change in the leadership of this project so establishing a secure, more permanent system for those in charge of this project has been our top priority over fundraising.
We are hopeful that over the summer, when the Grassroots Onsite Work Interns from GlobeMed at the George Washington University arrive, we will be able to work with them in order to assess what else can be done to bring back more awareness of our project to the George Washington University and the United States at large. During the time in which the Grassroots Onsite Work Interns are in Rwanda, we are also planning on learning more about social media networking so that we can better spread our message and goals through sites such as Twitter, Facebook, and Wordpress. We will also be learning about grant writing opportunities so that we can maximize the potential for fundraising and get this project off of the ground.
WARNING: Javascript is currently disabled or is not available in your browser. GlobalGiving makes extensive use of Javascript and will not function properly with Javascript disabled.
Please enable Javascript
and refresh this page.