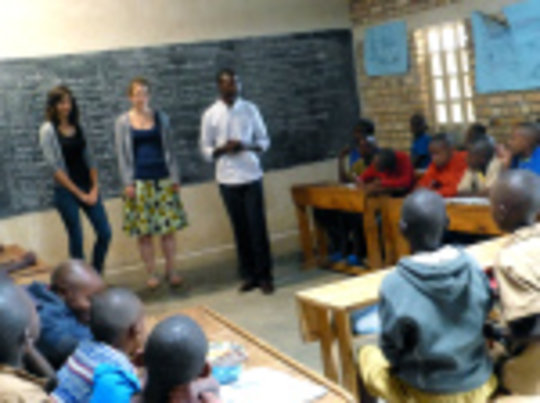 AMAZI NI ISOKO Y'UBUZIMA
Amazi ni isoko y'ubuzima is a Kinyarwanda sentence "mother tongue of Rwandans" which mean "water is the source of life".This is a sentence that is well recognized by many Rwandans during different education sessions
and campaigns related to Hygiene, water and sanitation practices and their importance on our daily life.
The sentence is also retained by MATYAZO primary school students at the completion of their hygiene and sanitation education sessions during the academic year of 2012 where the activities of Hygiene, water and
sanitation program of Rwanda village concept project were working as a target group for its project of Hygiene and sanitation education among primary school students.
During the academic year of 2012, Volunteers from RVCP at MATYAZO primary school which have around 1,000 students, covered different topics on hygiene practices promotion. Among these topics we have hand washing
practices promotion among primary schools students, body hygiene, home materials hygiene (dishes,jerican,..),school materials and class hygiene, latrines cleaning, water management and respiratory hygiene practices. Students also learned how to share information and skills gained among their family
members and other children from their villages in order to become ambassadors of hygiene, water and sanitation promotion practices.
Different methods were used to educate students on those different topics. Printed materials to provide children information on hygiene and sanitation, posters, flayers, songs and group discussions on topics covered.
Nowadays students are in their final exams to end their academic year and activities at the target group are now closing and they will start the academic year in January 2013 where the project will start the new primary school as a target group.
All things have not gone well during the activities implementation in this academic year. Normally the academic year of all students from Rwanda started in January of each year and end in starting November but now it changed for universities and colleges where they ended the last academic year in July 2012 and start the new 2012-2013 academic year in September 2012 which disturbed the way activities conducted as volunteers from RVCP who
implement hygiene, water and sanitation activities are national and international university students. To resolve the challenges the organization is preparing how the implementation of different sessions and topics to be
covered in different classes at the next new target will be marched with the academic year of volunteers and the target primary school students.
"Clean hands with soaps save live"