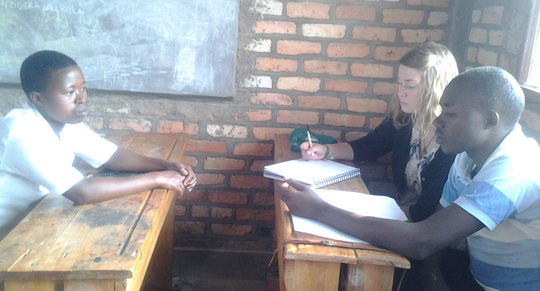 A six-strong field team (four IPs, two RVCP counterparts) conducted research, in the form of questionnaires, to ascertain the level of hygiene and sanitation practiced in Mpungwe village (Huye District) and Mbazi Primary School in order to evaluate the organisation's hygiene program as it stands today.
Research was carried out in Mpungwe village throughout July and August 2013, and a visit was paid to Mbazi primary school, which is currently receiving teaching sessions on appropriate personal and domestic hygiene and sanitation practices. The research into hygiene and sanitation of Mpungwe village and Mbazi Primary School was conducted with the principal objective of monitoring and evaluating RVCP's project.
The responses from fifty nine individual households and 34 students yielded interesting, though complex, results. The findings showed that the majority (over 57%) of Mpungwe residents possessed moderate-to-very good levels of hygiene – as defined by the International participants (surveyors).
Findings in Mbazi primary school are on the whole extremely positive. It was revealed that 94.12% of respondents bathe or shower every day, and all respondents use soap when showering. Over 90% of respondents clean their teeth at least once a day and all but one student use a toothbrush and toothpaste. Respondents were asked to state ways of protecting the area surrounding a water source from contamination, in an attempt to clarify the question and avoid the difficulties we encountered with this question in Mpungwe. This clarification proved to be successful, as 97.06% of respondents suggested a correct way of protecting a water source. Answers included 'keeping livestock away,' 'removing rubbish and bushes,' 'stopping children playing or individuals urinating in the source' and 'washing clothes away from the source' amongst others.
With our results taken into consideration we can also conclude that RVCP's teaching sessions have gone a long way toward improving the hygiene habits of Mpungwe's residents and students at Mbazi primary school. Our research shows that more people practice satisfactory hygiene compared to those that do not, while also showing that many of those who display poor hygiene skills are constrained by financial considerations rather than failings in RVCP's efforts to educate.
We would like to express our thanks to your support and we will appreciate your feedback about how you saw the report. Do not also hesitate to contact us for the full project report.
Thanks!