"Ever since I joined this dancing group, I feel at home and I feel more confident about my future. I love dancing and I want to be a professional dancer, I am always excited about our meeting every Sunday" says Olivier a 14 year old
One of the major goals of this dancing group is to bring together young people in Muyogoro area, in the Southern province of Rwanda during their holidays and teach them traditional dance as a way to keep them busy and keep them away from bad company. So far the group has brought in 3 former drug users.
Every sunday meeting before the dance training we educate the dancers about Sexual and reproductive health, drug abuse, gender balance, saving and receive guidance from the elders of the dance group.
Furthermore, the group has started a saving scheme where a member is allowed to save as little as 50Rwf (0.01US$).
The dancing group is now targeting growth and would like to recruit more members and become an exemplary group that can break out of poverty in their village and show other young people it is possible.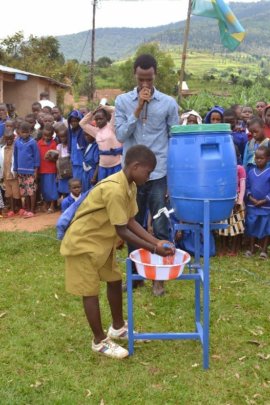 There were many activities carried out in the Project Strengthen Hand Washing to 800 Children in Rwanda, in these last months. To mention some, there were teaching session carried out at both Primary and Secondary Schools in Huye District to raise students' awareness about hygienic measures especially hand washing habit.
Nextly, we selected four families in Nyakagezi Village, Huye Sector with an average of 5 children who did not have latrines and we built for them Ventilated Improved Pits (VIPs). During those building activities, we conducted teaching sessions in the community in order to increase hand hygiene awareness even to the community.
Lastly, we celebrated together the hand washing day where more than a thousand students and a hundred villagers together with local leaders and the Dean of Students at the University of Rwanda Participated in it . We chose most vulnerable people and provided them with tools to keep clean water.
Students from different schools competed in demonstrating how hygienic measures can be achieved through Handwashing.
One of the women, Marcelline, for whose family we built latrines gave testimony on how it helped her family getting rid of long lasting infectious diseases from the lack of hygiene. She said that many children in the village suffer from that and sometimes one can find children suffering from sores in their feet from lack of hygiene. She thanked RVCP on behalf of other families and wished that every family could have appropriate latrine to reduce those diseases.
Special thanks to everyone who contribute to make this happen, your donation has served the community and we hope to continue working together to improve the living standard of those families especially children.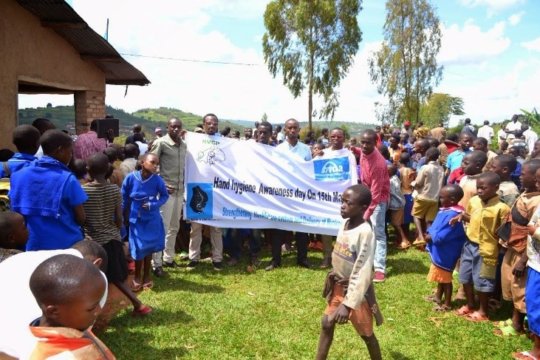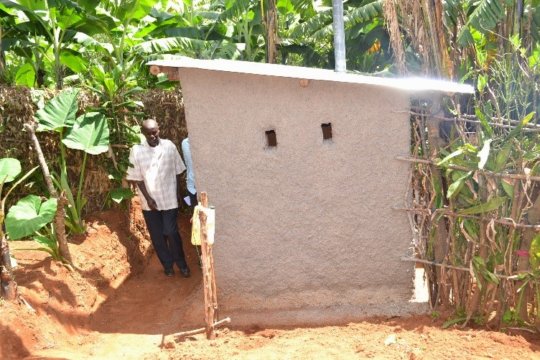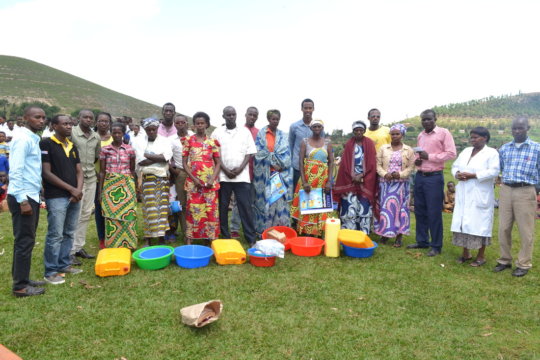 Links:
Among the hygiene, water and sanitation program activities; we conduct weekly teaching sessions at primary school for kids aged 7-12 years old. The aim of the sessions is to build a culture of hand washing and home hygiene for children at their early age. Through posters, games and teaching, the receive various knowledge on good hand washing practices, using soap, cleaning ustensils at home before eating ...
During the first trimester, over 100 students received weekly teaching sessions and volunteers enabled them to practice the hygiene and sanitation at school. volunteers demonstrated every activity and they provided examples of the theories given to children. They were also encouraged to practice everything at home and become ambassadors of hygiene and sanitation promotion at their families and villages.
We hope to reduce diseases which are caused by low hygiene conditions among children in Rwanda through providing accurate knowledge and skills to primary school kids who mostly suffer as a results of low hygiene conditions. the advocacy is also done at the local leaders to help school having enough water and various ressources needed to improve hygiene and sanitation condition for children at schools.
WARNING: Javascript is currently disabled or is not available in your browser. GlobalGiving makes extensive use of Javascript and will not function properly with Javascript disabled.
Please enable Javascript
and refresh this page.