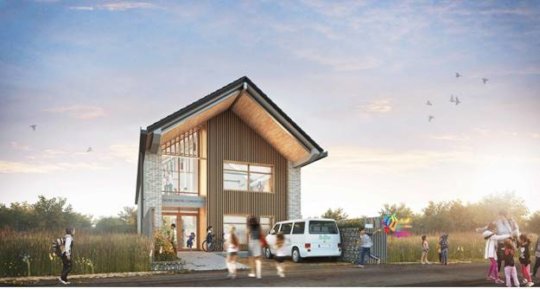 Earlier this year I visited the former home of possibly the greatest Albanian man of letters, Booker prize-winning author Ismail Kadare. His apartment is now a museum and our guide took us into the study there to show us a very special fireplace.
In Communist Albania an open fireplace in a city apartment was a forbidden luxury so Kadare had to undertake its building with the secret help of a lot of friends. Any time someone came to visit they were invited to bring with them just one heat-resistant brick, wrapped in newspaper so as not to arouse suspicion, When enough fire-proof blocks had been assembled to line a chimney and create a hearth, Kadare put them together. And on the first day that he lit his blazing, cheering fire, he invited everyone who had contributed to come and warm themselves beside it.
It's a vivid image that has stayed with me as we've been assembling our centre over these last months. On GlobalGiving alone we've received 67 separate donations to build our 'hearth'. We almost have enough now to start building,

As Hysni Hasani, our co-ordinator in Fushe Kosove, said to me this week, 'I feel so proud that all these people want to help my community. It feels amazing that some of them haven't even met us, but they are still ready to support.'

Following the tender process over the summer we've now signed a contract with the Pro Construction company and they are ready to break ground. This week we've had meetings with some of the largest building companies and suppliers in Kosovo and three of them have offered to donate concrete, gravel, tiles and more, These donations don't arrive singly wrapped in newspaper but in the same way as Kadare's guests who came together to make something amazing happen, we hope that each of you who's contributed to this dream will soon be warmed by what you've made possible!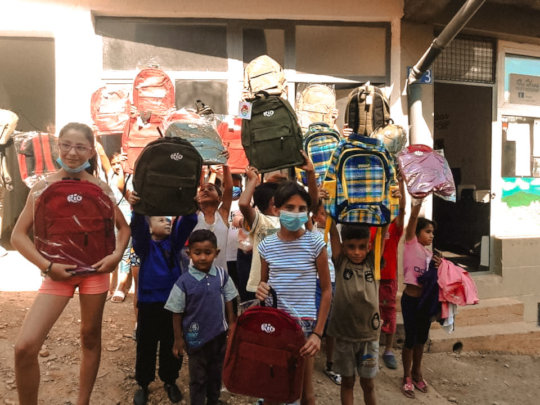 When the time to get back to school is around the corner, the feelings of joy and laughter for all children are sparkling everywhere.
Even though, not everyone of them have the conditions to attend school and enjoy their undeniable right to education, unfortunately.This could be due to the lack of the financial incomes, social exclusions and so on and we see this reality everyday in our work, that's why we aim together with you to make a change and facilitate the journey of each person struggling in this process.
This new school year made us all smile again, and the sparkles were felt from each of us, from each of these children, because we deserve so.
Because of your donations, we did it! Now more than 300 children have their new bags and other school supplies for this new school year, and are very grateful that their journey to school has been facilitated.
It is still a desperate reality that some communities don't have basic life needs met all around the world, but at the other hand it is wonderful to see people like you working and helping these groups be equal and independent.
"Education is the most powerful weapon which you can use to change the world"- said Nelson Mandela, and you are all indeed successfully contributing in this process.
Thank you,
The Ideas Partnership, with love :)
Links: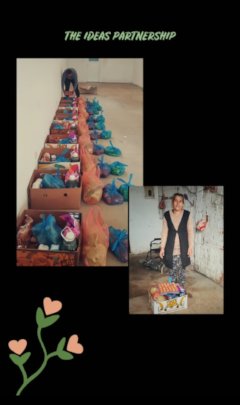 Adversities throughout a lifespan are inevitable, but how we deal with them is controllable. At least we got to see this practice early on these past months through the pandemic of 2020.
A very hard time for all of us, indeed. At one hand the responsibility towards the groups in need and on the other hand the limitations and difficulties of accessing these same groups.
Being at the same time a mother and a father for your children is not easy, that's what all of the widows included in the project agreed on. "The burden is heavy" they say, but at the same time makes you resilient.
Because of your continuous support we managed to not let these families run out of hope, even though in times of a global pandemic, where each of us were in a danger of health. Up to 30 women with their families got food and hygiene packages, for several months and are all in good health, fortunately.
The voice of gratitude of all of the women and families we support through this project is dedicated to all of the donors who very kindly gave their support all these months and continue further, creating access to nutrition and other services for these vulnerable groups, as we all deserve as humans.
Altogether, we managed to turn adversity into an opportunity. Thank you!
Links:
WARNING: Javascript is currently disabled or is not available in your browser. GlobalGiving makes extensive use of Javascript and will not function properly with Javascript disabled.
Please enable Javascript
and refresh this page.