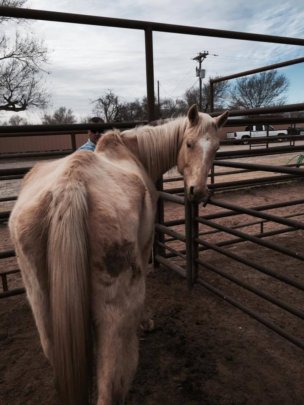 In February 2016, the Executive Director of Easy R Equine Rescue received a call from the Lubbock County Sheriff's Department. She could tell by the tone in the deputy's voice that the situation was serious. Two horses had been picked up and both were in poor condition, but the young mare was extremely emaciated and malnourished. The two horses would be held at a local veterinarian's office until the judge decided on the disposition of the horses. The question to Easy R is always, "Do you have room. Can you take them?" These decisions are not ones we take lightly. While we want to help every horse in need, that is just not reasonable. There are too many. But once we received a photo by text, the answer was yes. Absolutely yes.
Echo was a 6 year old Palomino mare that had been in wonderful condition when her owners got her. Her coat was shiny. She was a healthy weight. And there was light in her eyes. Because of back to back extenuating circumstances, her owners stopped tending to her, giving her water, or feeding her. A concerned neighbor lady who took buckets of water and some hay to her was the only reason Echo was still alive. Her ribs could be counted because they protuded from the sides of her body. And her muscles were atrophied around her hips, just leaving jutting bones. Her coat was dull and in poor condition. She had a cloudy spot in one eye that one could assume was from an puncture or scratch that had ulcerated.
Once the judge ordered custody to the sheriff's department, we accepted the horse at Easy R and she was immediately placed at a foster home that had fostered several horses for us before. Her re-feeding program began to help her slowly and safely put on weight. She was vaccinated, worked on by a farrier and an equine dentist. Her eyes were dull and her attitude lethargic. We try to avoid attributing human emotion to horses and assuming they reason and think as humans do. But it's hard not to wonder if a starving horse is scared. If she wonders if each day will be her last.
Fast forward a year and 3 months. Through the consistent feeding of a healthy diet, regular farrier visits, and a lot of love and attention from the foster family, Echo looks like a different horse. And acts like a different horse. She is energetic, attentive, and has life in her eyes. Her coat is a golden blonde and is shiny and soft. And her picture online catches the eyes of some children in East Texas, 9 hours away from Lubbock. They convince their dad that Echo looks exactly like the Palomino mare they currently own and that they should drive all the way to Lubbock to adopt her. Well. That's exactly what happened. When the adoptive family pulled up at the foster home, a cute and mannerly 9 year old boy haltered Echo. And they became instant friends. Reports from the adoptive family included a story about Echo following this little boy like a puppy even to the point of trying to go into the house after him. And a Facebook post and picture of the two with a caption of "best friends". It can be assumed that Echo was never started under saddle, but since this family trains all their horses anyway, that was no concern to them. She will be taught, loved, fed, ridden in parades, allowed to graze on lush East Texas grass and wade in the ranch lake. Best of all, she will never have to wonder if she will be taken care of and loved. All's well that ends well? Maybe. She had a really rough year prior to coming to Easy R that she should have never had to endure. But amazingly, horses adapt and trust again. Echo's journey is far from over. But now it will be with a loving family who opened their hearts and home to this gorgeous mare.
We can say "yes" to horses like Echo because of donors who give through Global Giving. Thank you for being a part of Echo's journey. All sugar-coating aside, it is very expensive to rehabilitate a horse that is in very poor condition. Many times we take them on faith, hoping and praying that donations will come in that allows us to continue resuce and rehabilitation. We are so very grateful those prayers are answered through our generous donors.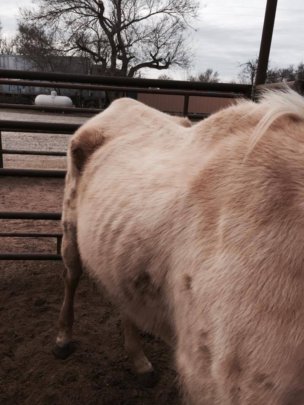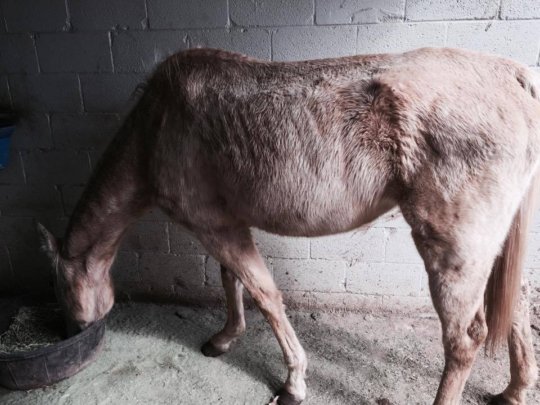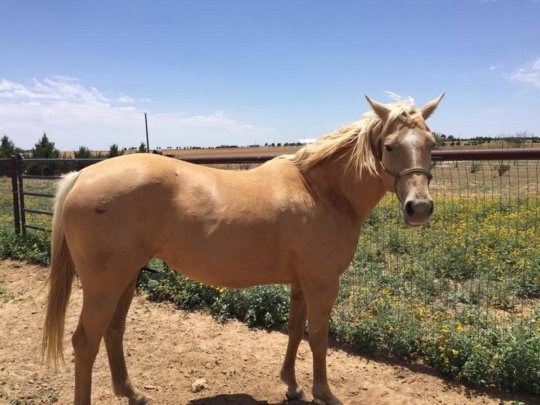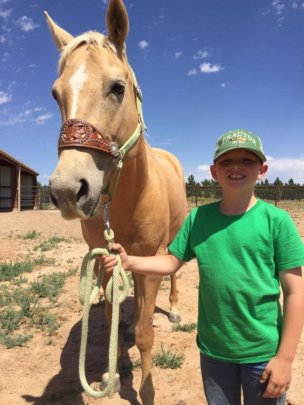 Links: