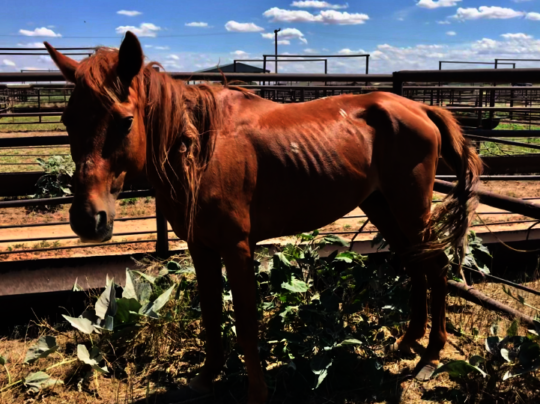 In May 2019, Easy R received a call from the local sheriff's department informing us that photos were about to be texted. As the photots came through, we saw a heart-breaking situation in which a small horse was tied to a trailer home amongst a great deal of trash, pipes, furniture. He was thin, his mane was terribly matted, and in a few photos, the rope he was tethered to was tangled up in metal panels on the ground. He had no water (in May it is already hot in West Texas) and the only food he had was the weeds on the property. Most alarming were photos of his feet. They were grotesquely overgrown. It was obvious that his basic care had been neglected for many, many months. It's possible his feet had not been trimmed in a year or more. In addition, he had scars on his back and sides that evidenced he had been ridden in a very poorly fitting saddle and/or without a saddle pad.
Even though someone had called the situation into law enforcement, no one in the neighborhood was willing to give any details about who owned the horse or why he was abandonded. Only that he had been there for a few weeks. The sheriff deputy informed Easy R that an order had been issued by a judge to pick up the horse and locate a rescue that might be willing to take him. We were willing and Easy R staff went to meet the horse at the local sale barn where he was being held. Fortunately for us, we have several foster families who are willing to help at the drop of a hat. Families who say yes. Families who, because of their willing hearts and hands, enable us to say yes to horses like Flynn.
In the past 9 months, Flynn has been in two foster placements. The first family (Carol and Sara) named him Flynn, started his feeding program, provided safe shelter, green pastures, farrier care, and the beginning of trust building. Even though it was obvious by the scars on his back and sides that he had been ridden before, it was also obvious he was extremely distrustful of people and evaded all physical contact at first, understandably so. In August, Flynn was transferred to a local boarding barn (great friends of Easy R) in order for a staff member (Heather) to begin working with Flynn on a almost daily basis, assessing his skills, teaching him new things, promoting trust, and starting him under saddle (in a correct, humane way).
We have learned he is around 7 years old, is most likely a pony or mixed pony breed, is still leery about touch but willing to try, still not too sure about the farrier, loves horse cookies, is very kind and slow around small children, wants to bask in the sun, gets along with other horses, and is starting to appreciate his time with Heather. And she adores him. He is being ridden almost daily and learning and adjusting to many new things. Soon, he will be ready for an adoptive home where he can continue to learn, gain confidence and skill, and continue on in his training.
When we look back on Flynn's 9 months with us, we are so incrediby grateful for all the foks who, thus far, have been a part of his recovery: law enforcement, foster families, service providers, volunteers, and YOU! Your donations make this possible. Financial support is why we can say yes to calls about horses like Flynn. And, unfortunately, we will continue to get calls about neglect and abuse cases. But fortunately, we can say yes. Thank you so very much for your support.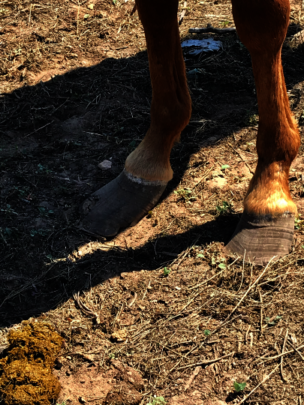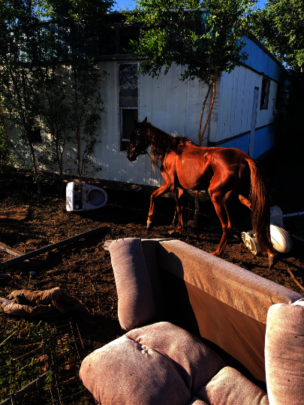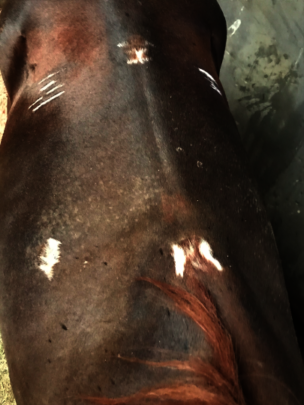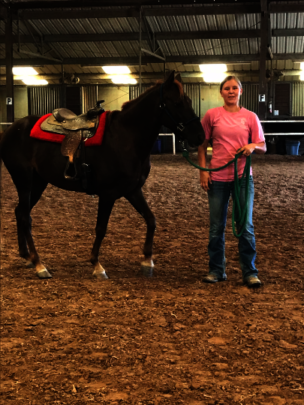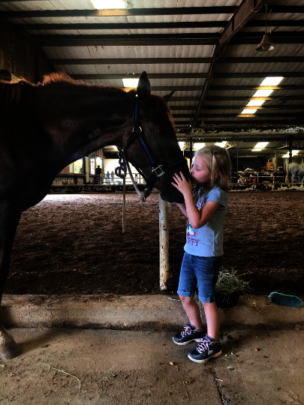 Links: