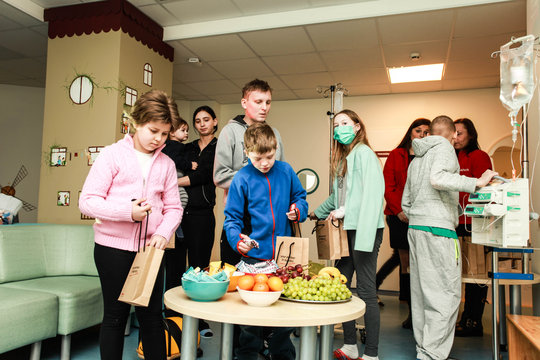 During the months of December, January and February we were taking care of children with cancer in the Children's Hospital in Vilnius (Santariskes) and in the Kaunas Pediatric Clinics. We delivered care and treatment supplies, a walker, bedding, pajamas, kitchen utensils and appliances. We organized therapeutic sessions for children with cancer and their parents. In addition, we were taking care of children in need of treatment abroad. During the three month period, we have provided 10239 euros for treatment, nursing, therapeutic workshops and improvement of the oncology wing's overall environment.
Parents of a two-year old boy Maximiliano were referred to our organization – a boy diagnosed with eye cancer (retinoblastoma). All the treatment options in Lithuania have already been exhausted. The boy must be cared for in Switzerland's clinics. Therefore, over a two-month period we paid 4400 euros for Maximiliano's treatment, nursing, traveling and accommodation in Switzerland. The financial support to the family was provided with the help from our sponsors. Furthermore, we spent 3539 euros for Gabrielius' treatment. He also has retinoblastoma and is being treated in Switzerland.
We have delivered hygiene products, diapers, wet wipes, shampoos, mouthwashes and medical bandages to the oncohematology department in Vilnius, all worth approximately 1000 euros. Approximately 70 packages of diapers, 100 packages of wet wipes, more than 100 packs of colorful bandages, 10 bottles of shampoo and body oil as well as other care products were given. We have presented 50 new pillows and 45 new sets of pajamas, all amounting to approximately 800 euros. In addition, we have brought a walker to the hospital for Demean, as this 1,8 year-old boy, due to the disease, cannot control his leg muscles. We always strive to provide the extra care to children from orphanages needing treatment at the hospital – currently we have a boy for whom we bring food,medical supplies, as well as clothing items.
With the help from our sponsors, we have brought to the oncohematology wing's kitchen, the much needed dishes, utensils, and kitchen appliances, such as pans, pots, cutting boards, toaster, cutlery, ladle, strainer, cutting knifes, knife sharpener, sandwich grill, mill, soup plates, bowls and cups. All of this costs approximately 500 euros.
During the winter period, we organized various festivities and therapeutic workshops on the oncology wing for the children and their parents. The children were visited by Olympic Champion, Ruta Meilutyte; beauty workshops and demonstrations were organized for the mothers; Squash book making session for children and their parents. In December, red Christmas stockings were hung on the doors of all of the wards, and the little patients would find a toy or a treat in them every morning during Advent.
We want to thank every person, who is contributing to the well-being of the little patients. It is our belief that the best care should be provided to children with such a devastating sickness, anything that would make their battle with the disease even slightly easier.