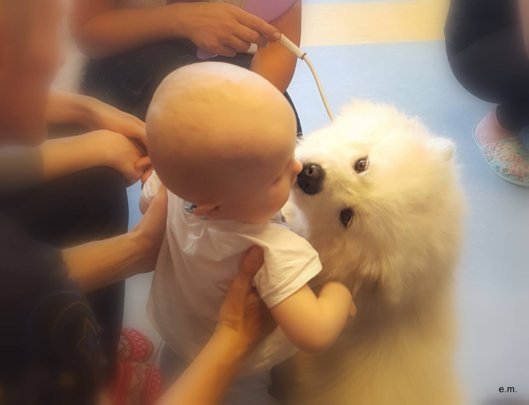 This summer, over the period from June through August the charitable foundation Mamu Unija had provided 44 879,72 USDof aid for children suffering from oncological diseases as well as support for their families. These funds were used to acquire non-covered drugs, essential nursing care items, for supporting children's treatment abroad and for funding their trips to hospitals and back, as well as for children's birthdays and dreams. Funding was allocated for the treatment of Laurynas, Domas and Maksimilijanas in Switzerland. We would also like to express our gratitude to global giving donors who contributed 374,86 USD.
Over the period of three months the trips to Switzerland were conducted as follows: Maksimilijanas travelled once, Laurynas – twice and Domas – twice. Trip and treatment expenses were covered by a sum of 5 969,61 USD
Domas's mum was happy "our little Domas and his family are sending their greetings! After the trip to Switzerland his eyes are in a stable condition, doctors found no changes. It is a great achievement for us to receive only positive news for a second time in a row. My heart felt that all will be fine," Domas's mum Sandra said. Keep up the good job, dear trooper Domas! Thank you everyone for the support.
Laurynas's mum also shared her experience about his treatment: "Laurynas is growing into a great guy with a strong character. He always tries to get what he wants, at any cost. For a very long time Laurynas was unable to speak but now we are happy to announce that we can talk to each other and he learns new words every day. The boy attends a special kindergarten for children with eyesight disorders. There he is constantly monitored by specialists, undergoes special training and is treated by a speech therapist. We are waiting for our September meeting with Swiss therapists and expecting good news."
Also, to our Austeja who lost her leg to disease, we ordered and purchased a leg prosthesis for 27 373 USD. For now Austeja is waiting for her prosthesis and is already learning to walk with a temporary prosthesis.
We also purchased non-covered antifungal medicines and food supplements to our little Mintare as after a long and demanding treatment she refused to eat for some time. The expenses amounted to 1900 USD . Thus, the total sum of treatment expenses over the period of three months is 36 576,40 USD
Additionally, over the period of three months we had been providing essential nursing care items (diapers, wet wipes, and covers) and dispensed: diapers – 35 pcs, wet wipes – 36, covers – 52. Other hygiene items (such as cream, shower gel, shampoo): cream – 22 pcs, shower gel and shampoo – 16.
For families whose children are treated in Vilnius University Santaros Children's Hospital and in Lithuanian University of Health Sciences Kaunas Clinic we also provided support and organised events. During these events we presented items for the use in the children's activity room – 44 learning games, McQueen tables and chairs, new children's clothes, 80 big boxes of candy for all children in the hospitals, 50 pizzas and 20 kg of blueberries.
We also celebrated birthdays of 41 children. Our efforts are dedicated to making kids' hospital days easier and brighter and for making them happier.
We also prepared amusing tasks such as pizza or ice cream making sessions. Moreover, we invited professional hairdressers and make-up artists to give some joy to mums and to our little troopers. Children had a possibility to enjoy the company of Canine Therapy Centre pets. One of the mothers shared her experience and said "your heart melts when those tiny fingers are touching soft and fluffy fur and the whole department is full of children's voices and laughter. Then you realise that it really helps to get better as they, in their long and hard journey, need as much positive emotions and gentle touch as possible."
We are eternally grateful for such cosy meetings, positive emotions, unlimited love for children and their precious time to Iveta, the soul of canine therapy, and her entire team. And a special thanks to Matilda and Brukne who did not shy away from children's embraces and kisses. And of course, let us express our gratitude to dogs' owners for their care and for taking the time to do good deeds.
We would like to express our gratitude to all Global Giving donors who are not indifferent to children's pain and are constantly supporting those who need those warm wishes and support the most.