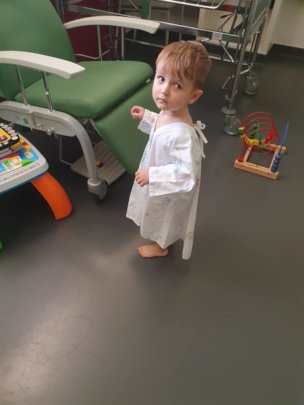 Our funds were used to acquire non-covered drugs, essential nursing care items, for supporting children's treatment abroad and for funding their trips to hospitals and back, as well as for children's birthdays and dreams. Funding was allocated for the treatment of Martynas, Adrijus in Switzerland.
Over the period of three months the trips to Switzerland were conducted as follows: Martynas travelled once a month, Adrijus – twice. Trip and treatment expenses were covered by a sum of 25225,69 USD.
This time, after Martin returns from Lausanne clinics, we share a letter from his mom:
"Hi,
It is urgent to rejoice that, after a month and a half of illness, Martynas has finally got rid of cough, angina and temperature. I also had some stress as I noticed changes in the Martynas long-term catheter implanted subcutaneously during bathing. We received an urgent referral to the Kaunas Clinics where the catheter was surgically removed due to displacement and unfit for further use. We thank dr. A. Kilda for the urgent operation. We are delighted that the latter has served us for a year and a half and greatly facilitated the work of doctors and associates, but recently the implanted catheter was no longer in use and simple, disposable were used.
The trip to Switzerland passed smoothly. After the operation, it turned out that a new tumor under the eye had been treated. Of course, the news is not the worst, but not as good as we expected. We still have hope for recovery and we believe in the doctors, their work and their dedication to the profession.
The next trip to Switzerland is scheduled a month later.
Greetings everyone from Martynas! "
FIRST TRIP TO SWITZERLAND
Little Adrijus today (2019 10 10) embarked on the first major and very important journey of his life - treatment at pediatric clinics in Lausanne. A few months ago, at just 1.5 months old Adrijus was diagnosed with a rare oncological disease, retinoblastoma (a malignant eye tumor), which is rare in Lithuania.
After the plane landed at Geneva Airport, Adrijus and his mother were met at the airport by Swiss Lithuanians, who willingly agreed to help with their medical trip.
A little bit of tension because everything had to be a little different. Swiss medics changed their treatment plan after Little Adrijus examination and cheered us on the good news. There was an urgent need to change family return tickets. And here again, the goodness of the people triumphs, and in just a few conversations about a small person, people who are united in a team and live in different countries.
Well, this time the experience of a short trip to Lausanne clinics is shared by Adrijus mom:
"Hi, I know you are looking forward to seeing what's new here. So, I hurry to write down everything.
Yesterday was an consultation with an anesthesiologist and prof. Munier's assistant. Explained what might be done, why some treatment might be needed.
An eye examination with anesthesia was ordered today. And after that everything had to turn out. That's it.
Good news
Adrijus will not need chemotherapy at this time. Now laser treatment has been done. Left eye completely healthy and clean. She sees one hundred percent. There are three tumors in the right eye, but the right eye also sees it, only weaker. Because the eyesight is not the same, you will need to put a patch on the left eye to develop and strengthen the right eye.
The expenses amounted to 2.874,77 USD .
Additionally, over the period of three months we had been providing essential nursing care items (diapers, wet wipes, and covers) and dispensed: diapers – 40 pcs, wet wipes – 45, covers – 90. Other hygiene items (such as cream, shower gel, shampoo): cream – 30 pcs, shower gel and shampoo – 20.
For families whose children are treated in Vilnius University Santaros Children's Hospital and in Lithuanian University of Health Sciences Kaunas Clinic we also provided support and organised events. During these events we presented items for the use in the children's activity room – 30 learning games, new children's clothes, 50 big boxes of fruits for all children in the hospitals, 30 pizzas.
We also celebrated birthdays of 35 children. Our efforts are dedicated to making kids' hospital days easier and brighter and for making them happier.
As always, we traditionally wish children health!
We would like to express our gratitude to all Global Giving donors who are not indifferent to children's pain and are constantly supporting those who need those warm wishes and support the most.