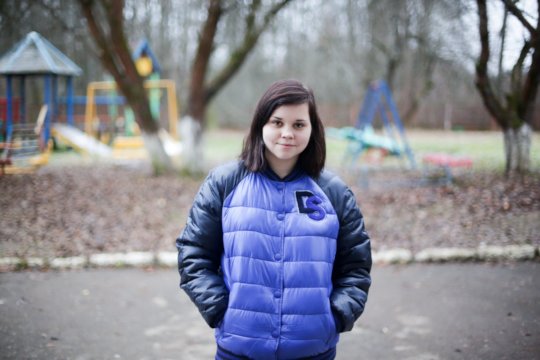 Sveta is fifteen. She has been living in an orphanage for a year now, studying at school, and getting used to live in a new environment. She is learning to understand who she is.
Sveta does not remember herself before being three years old, but afterwards she remembers her adoptive mother, strict and demanding. Loved. Sveta had her own clothes, toys and school. Everything was normal- like in every family. Everything changed later - from a nice cheeky girl she grew into a teenager with scandals, bad marks, nasty behavior and other signs of this awkward age. This was different from the what her adoptive mother thought about how her daughter would grow up. She took the girl to the orphanage, telling everyone about "disgusting behavior", "bad genes" and "potential alcoholism".
"What we are having here is not even a return," says Christina, a psychologist at Deti Nashi (Our Children) Charity Fund. "A child who grew up in a family, who almost didn't experience life in orphanages, founds herself in an orphanage being almost an adult. Can you realize the degree of damage? Sometimes parents (not very smart ones) frighten their children, "If you behave badly, I'll take you to an orphanage." But in Sveta's case this came true in real life".
Deti Nashi Fund tried to work with the girl's former adoptive mother, but did not make much progress. Then the psychologist and social worker of the fund decided to try to find the girl's birth parents. Specialists believe that it is very important for a child to know about real parents in any case and ideally, to know that they love him or her and took care of them before. Even if the situation has changed now and they cannot be together anymore.
One day during Sveta's session with psychologist, Christina asked her to paint a tree - this is a simple exercise that helps to realize a person's place in this world. Sveta drew a tree without roots.
Sergei met Mary, Sveta's mother, after placing an ad to the local newspaper. The girl responded and they started correspondence. They wrote each other couple of times and then Sergei invited her to come.
Maria moved to Sergei with her son and after some time Sveta was born. And then in just one month the man got fired from the factory, Maria had a stroke, their house was burnt. Sergei gave up and started drinking. They lost their parental rights in one year.
"My mother was deprived of parental rights when I was about two years old too," Sergei says easily. "Masha is also from orphanage."
The man is now working as a tractor driver at a local farm practically "for food". In Sergei and Maria's house there is no heating, frankly speaking there is no real house in fact: just collapsed walls, you can only stay inside in the outwear. Clothes are drying on the ropes, Sergei washes them as Masha can't use one hand. The drying goes badly, clothes get covered with ice.
Russia has almost no system of social support for people facing difficult life situations, so they do not have any abilities or resources to restore their lives. They give up almost immediately, and all their past family experience only reinforces this model. When Mary lost her parental rights, she and Sergei tried to find out how to reinstate the rights, but their daughter was already placed into foster care. It is clear from the conversation that the man does not see the difference with an adoption, so he and his wife decided that they had lost their child forever.
"If you do not change the system, do not work with such families, you get an endless reproduction of the orphanhood," says Christina Yakusevich. She often saw how former orphanage children did not resist, when the children were taken away from them. They consider this to be normal because they did not know anything else in their lives.
We are leaving the Sergei's village; there is a long way and a long work ahead. Fund staff Alina (counselor of children at Deti Nashi) and Christina will help Sveta and other children in two orphanages in the Smolensk region, where Deti Nashi work. They will drive for hundreds of kilometers more, visiting their families, talking, explaining and showing the right way. Sergei and Masha need to come up with an action plan, to restore documents, to come to agreement with the supervisory authorities so that they could finally see their daughter. The Fund does not do this for birth parents, people have to go all the way on their own. But not alone: the staff of the Fund will be by their side now.
"Do you know what these medals are?"
Alina is holding a Sveta's great-grandfather's photo, which her parents gave to the girl. A wide smile, short-cropped temples and a guards badge on his chest. Order of the Red Star and two medals "For Courage". During the Great Patriotic War Sveta's great-grandfather rose to the commander of the saber squadron. Another picture - great-grandmother, with exactly the same dimples on the cheeks as Sveta has. She is a real beauty. It is important for any person to know his or her history, but it is vital for a child from an orphanage who is growing separately - both from the family and society. Usually a teenager takes after someone from the family. Now Sveta has got a family of great-grandmother and great-grandfather, a hero and a beauty.
She now has the people to be be proud of.
"Have you ever moved cities"?, Alina is taking a sip of coffee at the gas station, it's quite dark, we have been traveling all day from one side of the Smolensk region to another, and will take about two hundred kilometers for the Fund specialists to get home. "I've noticed that if you are alone in a new city, without relatives and without friends, even if you rarely talked to them and did not have time to meet, you feel especially lonely. And our children are alone not only in this city but in the whole world. Someone once said, "No man is an island entire of itself; every man is a piece of the continent, a part of the main."
Memories of your parents, the understanding that you loved and were loved, the opportunity to communicate with them - these are the "roots" that Sveta did not draw in the office of psychologist. This is not a story about returning to the family, her parents have too many difficulties to raise a daughter. But communicating with them gives the girl an opportunity to feel needed and loved, it helps a her to become a balanced individual, to learn and successfully build relationships with other people, peers and adults. Years of observation of how the life of the children develops after they graduate from the orphanage showed that those who had the opportunity to communicate with their relatives were more open to participating in the fund's projects. Those who participated in the projects were more successful after graduation, better adapted to adult life, which means that the orphanage circle was torn, not repeated by their children.
Deti Nashi Fund must pay for the work of psychologists and Homelike project's social educators. They look for relatives and support the communication of children with them. Some money is also needed for transportation costs, as the fund's employees travel a lot throughout the Smolensk region in search of relatives of kids in the orphanages. Please support the project, and if possible, start a small regular donation.
Thank you.
*the child's name has been changed