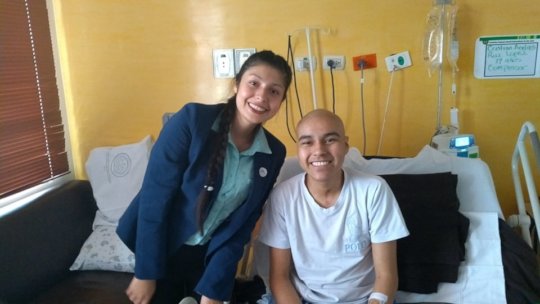 Thanks to your contribution we can accompany the goals of young people like Sinders!
Sinder is a 23-year-old girl, she is survivor of a diagnosis of Hodgkin lymphoma with early relapse and autologous bone marrow transplantation, her diagnosis was given on August 30, 2009 and the transplant was performed in August 2011, currently attending controls every year until it reaches 10 years after the transplant, its treatment was done in one of the hospitals where art therapy workshops are held.
Her diagnosis came to her life at a time when priorities were far from taking care of her health, she was about to turn 15 and once they detected a mass in her neck her life changed completely, at the beginning, she didn't understand why her family she cried and remained sad, she didn't understand why the doctors and psychologists spoke to her with such seriousness, because she didn't understand the importance of having a disease such as cancer.
The physical adaptation for Sinders was the most difficult part, she was a vain and self-centered girl, when she indentify couldn't do what all the teenagers did and that she had to rearrange her routine followed by feeling all the effects of the treatment, she understood that she was faced with a situation that challenged her to get on a roller coaster where she found curves of emotions, constant changes, new knowledge in front of her experience and her own feelings. With this she learned to value the present, she learned to appreciate her parents, to contemplate the night and the day from his room, she learned that routine is always needed, she learned to receive bad news and from that learning she managed to gain strength with the objective to fight for the love of those who waited that she said "I left treatment, now I'm feel better".
Sinders knew the foundation in the relapse of her illness, when the doctors were evaluating the possibility of a transplant, she participated in 2014 in the event of the foundation "Prize for Courage of a woman with cancer" since then the foundation was pending in her process, although at some point she resisted having contact with other young people, she began to follow the social networks of the foundation and her idea of helping others made her the leader of young people in the foundation, today she prepares new projects in favor of young people diagnosed with cancer and she also waits her degree as a psychologist. Sinders believes that the most valuable thing that happened to her was to change her way of seeing life, she to stop being a self-centered girl to meet the woman who wants to contribute to the common good, she recognized a woman who today takes the time necessary to obtain donations for children with oncological diagnosis and she give them visits full of happiness and understanding.
Today she tells the readers that she wants them to love today, that they love themselves and the people who are present in their lives, that they always find a purpose to live that makes them happy and of course they don't be afraid of cancer, because in the end, blessings are raining despite adversity.
She said: "Cancer takes away good cells, it's selfish, it's usually cruel but behind it people come with their own light that end up being your dose of life and against that, this disease Cant Not!"