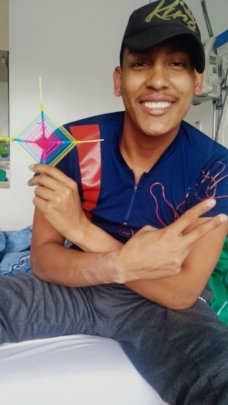 Thanks to your contribution we can contribute to the well-being of young people like Maikel!
Maikel is a 23 year old with Venezuelan nationality, linked to the youth group of the Colombian Leukemia and Lymphoma Foundation.
He was diagnosed with acute leukemia and receives care at a specialized center in the city of Bogotá.
Maikel says that living with leukemia has been an unknown and painful experience. He misses his family, especially his daughter, whom he wishes to teach her to walk and ride a bicycle.
In his hospitalizations he has received our support, from health professionals, as well as from other young survivors with whom he has shared games, workshops, conversations and words of encouragement and motivation.
With the workshops we want Maikel to take advantage of his time taking readings, French classes and art therapy to his room.
A few weeks ago Maikel received a visit from his brother, and asked him to deliver a letter to his wife and daughter, in this one he observes in large print: «Je vous aime» - I love them.
His brother says goodbye with a big hug.
Maikel thanked the foundation for all the support received, in the middle of the painful process not only for having cancer but also for being away from his country and his loved ones, he feels very welcome and loved by God.
What do you think of our in-hospital recreational workshops? How would you like to contribute?