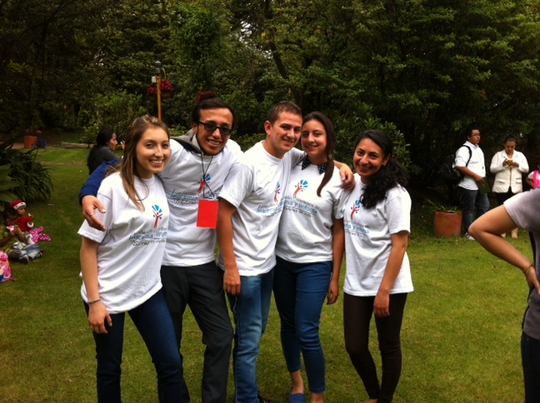 Tu contribución es muy importante para nuestros jóvenes luchadores….
El programa "Jóvenes en contacto" actualmente cuenta con 90 jóvenes registrados, este año 60 de ellos han recibido mensajes de esperanza y apoyo emocional a través de alguno de nuestros canales de comunicación: Redes sociales, llamada telefónica, visitas.
Algunos sobrevivientes del grupo realizaron 15 visitas al hospital o a la casa de jóvenes en tratamiento, llevando mensajes de fortaleza, afecto y acompañamiento; esta oportunidad de compartir sus vivencias frente al cáncer, realmente es una terapia inigualable para aquellos que luchan por salir adelante y también es una gran motivación para quienes han sobrevivido a la enfermedad y ahora quieren retribuir a la vida, las bendiciones recibidas.
Los jóvenes más comprometidos del grupo compartieron durante este año 4 actividades lideradas por ellos:
Visita al parque Salitre mágico
Evento Notas al Cielo, en alianza con la Fundación Jóvenes Contra el Cáncer de Ecuador.
Obra de teatro "Máximo" para la Celebración a la vida de los niños con cáncer
Presentación de baile en varios eventos de la Fundación
También participaron en otras actividades organizadas por la Fundación:
Participación en la obra "La Navidad de Santa", preparada por el grupo de baile de la Fundacion "Funtalento".
Evento de navidad para los niños con cáncer y sus familias.
Estas actividades permitieron a los jóvenes compartir su experiencia de vida con los niños diagnosticados de cáncer, con sus familias y con grupos de adultos con cáncer, demostrando que se puede superar la enfermedad y trabajar por los sueños que mueven su corazón.
Algo muy importante para el grupo de jóvenes y para la Fundación fue el reconocimiento dado el pasado mes de Octubre a nuestro líder del grupo, cuando recibió de parte de la Fundación Sanar, el "Premio a la labor de un sobreviviente año 2014". Este merecido reconocimiento en el día mundial del sobreviviente, exaltó las cualidades de Diego en beneficio de la comunidad.
Muchas gracias por tu aporte!, ha sido esencial para el desarrollo de este proyecto. Necesitamos seguir contando contigo y con más personas solidarias que quieran invertir en estos hermosos jóvenes luchadores.
Nos interesa mucho saber tu opinión ¿Qué opinas acerca de este proyecto? ¿Qué otras cosas crees que podríamos hacer?
______________________________
Your contribution is very important for our young fighters ....

The "Youth in touch" program currently has 90 registered youth, this year 60 of them have received messages of hope and emotional support through any of our channels of communication: social networks, phone call, visits.
Some survivors of the group made 15 visits to the hospital or home treatment youth, carrying messages of strength, affection and support; this opportunity to share their experiences against cancer, it really is a unique opportunity to those struggling to get ahead therapy and is also a great motivator for those who have survived the disease and now want to give back to life, the blessings received.
The most committed young group shared this year in April led activities including:

• Visit the magical park Salitre
• Event Notes to Heaven, in partnership with the Youth Cancer Foundation of Ecuador.
• Projects of "Maximum" theater for the Celebration of life of children with cancer
• Presentation of dance in various Foundation events
They also participated in other activities organized by the Foundation:
• Participation in the work "Christmas Santa", prepared by the dance group of the Foundation "Funtalento".
• Christmas event for children with cancer and their families.
These activities allow young people to share their life experience with children diagnosed with cancer, their families and groups of adults with cancer, proving that you can overcome the disease and work for the dreams that move your heart.
Something very important for the youth group and the Foundation was the recognition given last October to our group leader when received from the Healing Foundation, the "Prize for the work of a survivor 2014". This well-deserved recognition in the global day of the survivor, extolled the qualities of Diego to benefit the community.
Thank you very much for your contribution !, It has been essential to the development of this project.We need to continue counting on you and most caring people who want to invest in these beautiful young wrestlers.
We are very interested to know your opinion, What do you think about this project?
What else do you think we could do?