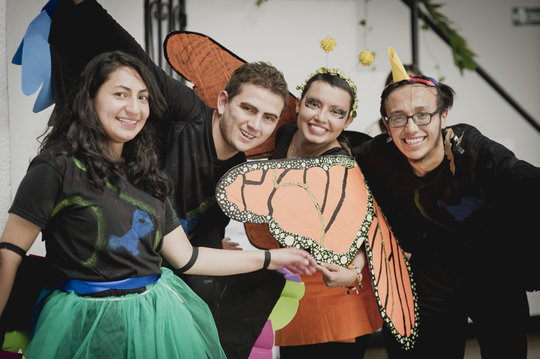 El pasado 19 de octubre se llevó a cabo la "Celebración a la vida", un evento muy especial en donde participaron 51 niños con cáncer y sus familias.
Este evento fue liderado por el grupo "Jóvenes en contacto", conformado por sobrevivientes de cáncer voluntarios de la Fundación. Estos valientes jóvenes compartieron su experiencia de vida con los niños y sus familias logrando dejar un mensaje de esperanza y de solidaridad y alentando a los demás a identificar su propia manera de ayudar a la comunidad y a hallar su fuerza interior a través del voluntariado.
Así mismo, se resaltó la valentía y solidaridad de algunos niños asistentes, y se compartió con ellos la historia del "Pequeño Máximo", el personaje de un cuento infantil escrito por sobrevivientes de cáncer, quienes relatan la vida de un gorrión que logra superar sus limitaciones y miedos para convertirse en un valiente colaborador de los más débiles.
Nuestros jóvenes recrearon esta linda historia a través de una obra de teatro y posteriormente vincularon a los niños con cáncer y a sus familias para identificar en sus hijos las características de Máximo.
Al final de la actividad se pidió a cada niño que escribiera un sueño o deseo, y éste se elevó al cielo en un globo de helio como símbolo de esperanza. Así celebramos la vida una vez más y dejamos sonrisas y mensajes de apoyo a los niños y a sus familias.
Te compartimos el comentario de un familiar asistente a la Celebración:
"Muchas gracias por el apoyo, el evento fue maravilloso con un gran mensaje de fortaleza y esperanza no solo para los niños, sino para nosotros como padres, ya que nos llena de fuerza para seguir adelante a pesar de la adversidad " (Antonio, Abuelo de Lenyn).
Queremos contarte también que en lo que va del año 2014, hemos logrado llegar a 335 niños, brindando apoyo emocional para los padres, información y educación acerca de la enfermedad de sus hijos y de sus derechos en materia de salud. También se ha realizado seguimiento mensual para identificar las barreras para acceder a los procesos de atención de la salud y la mediación para agilizarlos.
De estos niños, 85 niños han participado en los talleres de arte terapia, lo que ha permitido hacer más agradable su estadía en la sala de quimioterapia y en el Hospital, además de hacer un mejor aprovechamiento del tiempo, estrechar lazos con su madre/cuidador y compartir con otros niños la alegría de hacer arte mediante diversas técnicas.
Por último, es importante que sepas que la Fundación Colombiana de leucemia y linfoma ha entregado hasta el momento 232 auxilios de transporte para 60 familias, y ha realizado 6 grupos de apoyo sobre temas importantes como las generalidades del cáncer pediátrico, la ruta de atención en cáncer infantil y las realidades sobre el trasplante de medula ósea, beneficiando a 79 familias. El próximo 28 de Noviembre tendremos nuestro siguiente grupo de apoyo acerca de cómo ayudar a prevenir infecciones.
Muchas gracias por tu aporte, ha sido esencial para el desarrollo de este proyecto. Nos interesa mucho saber tu opinión ¿Qué opinas acerca de este proyecto? ¿Qué otras cosas crees que se podrían incluir?
__________________________________________________
Last October 19 was held the "Celebration of Life", a very special event where 51 children participated with cancer and their families.
This event was led by the "Youth in touch", consisting of survivors Cancer Foundation volunteers. These brave young men shared their life experience with children and their families obtaining leave a message of hope and solidarity and encouraging others to identify their own way to help the community and find their inner strength through volunteering. Likewise, courage and solidarity of children some attendees noted, and shared with them the story of "Little Max" the character of a children's story written by cancer survivors who recount the life of a sparrow can overcome their limitations and fears to become a fearless collaborator weaker.
Our young recreated this cute story through a play and later they linked to children with cancer and their families to identify the characteristics of children Maximum. At the end of the activity each child to write a dream or desire was asked, and this rose to Heaven in a helium balloon as a symbol of hope.
So celebrate life once again and left smiles and messages of support to children and their families. We share the comment of a family attending the Celebration:
"Thanks for the support, the event was wonderful with a great message of strength and hope not only for children but for us as parents as we filled strength to carry on despite adversity " (Antonio, Grandpa Lenyn).
We also want to tell you that so far in 2014, we have managed to reach 335 children, providing emotional support for parents, information and education about the disease their children and their rights in health. There has also been monitored monthly to identify barriers to the process of health care and mediation to speed them up.
Of these children, 85 children participated in art workshops therapy, which has permitted pleasant stay in the chemotherapy room and in the hospital, in addition to a better use of time, bonding with your mother / caregiver and share with other children joy of making art using various techniques.
Finally, it is important to know that the Colombian Foundation for leukemia and lymphoma has so far delivered 232 transport aid to 60 families, and has made 6 groups support on important issues such as the general pediatric cancer, the route of childhood cancer care and the realities on the bone marrow transplant, benefiting 79 families. On November 28th we will have our next support group about how help prevent infections.
Thank you very much for your contribution has been essential to the development of this project.
We are very interested to know your opinion, What do you think about this project? What other things you think could be included?