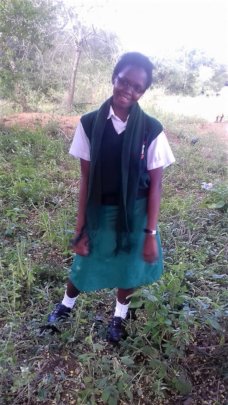 When Action Two Africa met with Alice in 2016, she was living with her sister in the Kiambiu slum. She was struggling to find stable food, shelter, clothing, and didn't know how she would pay her school fees. Despite worrying about what she would eat every day, or if her home would withstand another rainy season, her main concern was whether or not she would be able to finish secondary school. At an early age, due to her circumstances, Alice had lost hope that she would be able to pursue an education and fulfill her dream of becoming a teacher. After Humphrey, Action Two Africa's founding partner, met with Alice and her family, he assessed their needs, and welcomed her to our Child Sponsorship Program, where she would receive school fees and school-related necessities, stability at school, and mentoring through A2A's program.
Upon returning to school, Alice was excited to be back and hopeful that she would eventually become a teacher. She was determined to be a great student, and not let anything distract her. At first, giddy with excitement and hope, school was going well. She was getting good grades, making friends, and was happy to be working toward her goals; however, things began to change when she started experiencing peer pressure at school, which negatively impacted her grades, attendance, and attitude about school. She was lured into the adolescent pull of rebellion and didn't know how to get out. She knew things had to change in order to continue with school and have a future, but she was struggling, and didn't know what to do.
Her grades began to decline, but when Humphrey was notified, he went to talk to Alice about the struggles happening at school. Several meetings and mentoring sessions later, Alice was able to see that she had to make a choice. She could either continue to skip school and fail out, or she could pursue her goals and continue forward with school. Throughout the process Humphrey encouraged her to think about her future and what she truly desired in life, but most importantly, he simply listened to her.
We're happy to say that through mentoring and support, Alice made the decision to stick with school. Today, she is in Form 4 (a senior in high school). She is committed to her studies, and is even top of her class!
When Humphrey sent me this story from the ground in Kenya, I starting thinking about how truly important it is to have people who encourage and support us not only through our struggles, but also through the good times. We are thankful for Humphrey and his dedication to mentoring the children in our Program, and also thankful for all of you who have encouraged us through words, kindness, and donations, to continue doing the work we do at Action Two Africa. Being there for someone and supporting them, whether it be a friend, neighbor, mentee, stranger, or loved one, really does make a positive impact. But this is more than just a nice story. It's also a challenge. We each have resources and talents that position us to help others. So my question to you is also a challenge: Who needs your encouragement today? Whose life will you reach out and touch today? Who in your community can you, through kind words and listening, impact today?