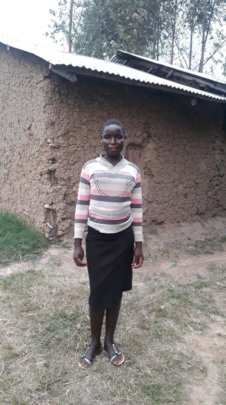 We have some exciting news; Action Two Africa has opened up a new location in Bungoma County, Kenya, where we have started providing educational scholarships to vulnerable children through our Child Sponsorship Program! This year, due to your generous donations, we are able to pay for six children to attend school that otherwise would not be able to.
Bungoma County is home to more than 1.5 million people, and is located in the northwest region of Kenya. The primary issue that youths in this area experience is a lack of educational funding to attend school, and therefore, many are getting into trouble, engaging in risky behaviors, and not living up to their full potential. Teenage pregnancy and highschool dropouts are on the rise, and we would like to help break down educational barriers that are contributing to these problems. Action Two Africa's goals are to provide educational sponsorships, mentoring, and hope for vulnerable youth within Bungoma County. With your help, we can continue to give these children the educational support they deserve!
Thank you all for your support! We hope that you all stay healthy, and that we continue to work together during these difficult times!
Congratulations to our recent graduate, Bryan! We wanted to let you know that we are celebrating a great accomplishment in the Kiambiu community this month. Brian, one of the youths in our Child Sponsorship Program, graduated high school, and was accepted to university due to his excellent grades! He hopes to become a pharmacist one day and make a positive impact within his community!
When Bryan first came to Action Two Africa, he was unsure of his future. His mother recently died, and he and his four siblings were left to care for one another. Food was scarce, housing was unpredictable, and it wasn't until members in the community interceded that they found refuge. Despite the support Brian and his siblings were recieving from friends and family, it was still difficult to find funding for his secondary education. Due to your generous donations, Action Two Africa was able to step in and provide Bryan with an educational scholarship.
Over the last six years, Action Two Africa has provided educational scholarships to more than 20 vulnerable children like Bryan and has also provided psychosocial support to more than 200 children! But, we could not have done it without you. It is only because of your support that we have been able to provide a brighter future to children within our community. Thank you for your generous donations in 2019! We look forward to 2020 and hope that with your help we can continue to give hope to vulnerable children in need.
Thank you generous donors! We wanted to let you all know that we recently reached our $10,000 Sponsor a Kenyan Child's Education goal that has allowed us to support dozens of children in school over the past six years! Thank you for allowing children in our Child Sponsorship Program to stay in school! The other good news is that even though we have reached our $10,000 goal, we are going to increase our project amount to ensure that we can keep providing education to vulnerable children in Kiambiu, Kenya.
Since Action Two Africa first became a nonprofit in 2013, and we started our initial fundraising campaign to raise $10,000, we have seen a significant increase in nonprofits, government agencies, and individuals bringing awareness and aid to eradicate global educational barriers. And although there has been a lot of positive forward progress to eliminate the barriers to obtaining a quality education, we still have a crisis on our hands. According to Global Partnership for Children, "Despite dramatic improvements over the past years, progress towards achieving education for all has stagnated. In total, 263 million children, adolescents and youth were out of school for the school year ending in 2016."
While there are millions of children who are not afforded the opportunity to experience the joys and benefits of receiving an education, we hope that you continue to stay positive, help us continue our quest to erradicate barriers to education within our community, and know that educating even a few children can make a lasting impact on an individual, family, and community. We ask you to please help us continue to move towards providing quality education to children within our community in Kiambiu; and, regardless of whether you donate $5, or $5,000, your generosity is making a lasting impact!
WARNING: Javascript is currently disabled or is not available in your browser. GlobalGiving makes extensive use of Javascript and will not function properly with Javascript disabled.
Please enable Javascript
and refresh this page.