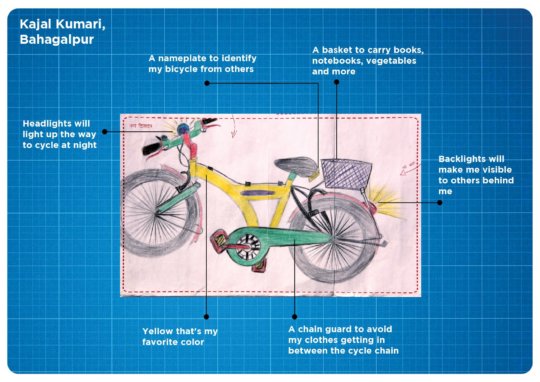 One of our favorite stories is about a little girl who rides her bicycle to school and then stops. She stops because she grows older and instead of using a bicycle, she waits for the bus. The bus is often late, or does not come at all. It's full of people. Then she tries to take the local jeep. Same problem. And not many girls or women go anywhere really.
What girls and women are up against when it comes to going to school or going to work in India, is a challenge.
It's a challenge because there's not very much reliable public transport in rural India. Cities have metros, trains, buses, even taxis driven by women. Villages and smaller towns have lose transportation networks.
We love bicycles. We always have.
We love them because they are green, they don't pollute.
We love them even more because the Government of Bihar gives girls a stipend to buy a bicycle to go to high school, to be able to get to their Grade 9 school that is further away than the local primary school.
The stipend in many ways is an exceptional gift. The only problem is that it's not enough for a new bicycle, and second-hand bicycles are often clunky. Because of pot holes in roads, bicycle tyres often get punctures. And the only mechanic to fix them, is probably a man.
We delivered a story about riding a bicycle to school and women learning how to drive from a mobile driving school for girls, to 100,000 girls in Grade 9. The story came with a design-innovation puncture repair kit so girls could learn how to fix a puncture. And every story came with a skills challenge, a simple question that asked girls, how would you re-design your bicycle if you could?
This is what girls sent to us. And we're thrilled.
How would you re-design your bicycle to be all it can be? That's the design-thinking challenge we set 100,000 girls in rural India. This is how they answered.
Design with a purpose. Design to solve the small and large problems you face on the way to school. You're given a bicycle in Grade 9 Bihar, or rather a stipend from school, to buy a second-hand bicycle. While once-loved-things are always what they love and many of the bicycles go the distance, some, many get punctures along the way. There are holes in the road. The mechanics are all men. Oops.
Farah is curious, she's 10, and she leads the story that introduced the challenge: why do so many girls cycle to school and when they are older, they stop moving about? Why do they decide to not wait longer for a missed bus. Why does the jeep never turn up when it's supposed to. Why is everything powered by things that make smoke. The bicycle, thinks Farah, is quite marvelous. If only, it could do this, this and this.
Solar lights for night-time rides, reflectors, lower bars, places for water bottles, a puncture kit that wraps around you with fluorescent pink/orange, or the middle bar, a bell to let people know you're coming and bling, just for fun. A license plate and a chain so your bicycle does not go missing.
Yes, there are so many ways we'd re-design our bicycles. Thanks for asking.