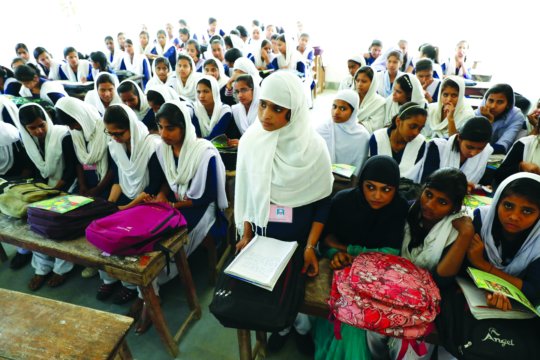 It was 12 noon when we reached Neha's school in Kishanganj. The heat didn't seem to deter the boys from hanging around outside. Where were all the girls, we wondered. This was supposed to be a co-ed school.
We walked past the boys into the school, where two girls ran up to us.
"Are you looking for Neha?"
"I am Neha"
"She is Neha"
"We saw you. We thought you must be here to interview us."
They speak at the same time. Finishing each other's sentences.
"Are you best friends?"
"No and yes. Well she is my sister, Shama, and we are both in Grade 9."
"She is younger. I skipped a year to get her to go to Grade 9 with me.
My mother would not allow me to go to school alone, now we can come to school together," explains Shama.
We sit down to talk to both Neha and Shama.
Neha and Shama come from a large family, like most of their friends in school. Like most large families Neha explains, decisions for her and her sister are taken by the eldest member of the family, in their case their maternal grandmother. This is where things get challenging for the girls.
"We often miss school, because of each other, I because of her and she because of me, it's just the way things are at home," Shama shrugs.
"Our day starts early, we have chores, then tuition class, school, back home and then more chores until our father and brother comes back, usually around midnight. If our mother is alone at home, then both of us have to stay back, to help her."
This year they have missed 80 days of school.
That's a lot.
They answer together.
"We work hard for school, get up early, and manage our time, so that we can complete our lessons, catch up with what we've missed."
In their village, a lot of their friends are married before they finish Grade 10, a truth that Shama says her sister and she will have to face. But Neha is not ready to give up yet.
"Look at Bijali in the story. Everyone said she couldn't do it, but she did bring the carnival to the village, didn't she? She shows that girls can do anything they want, as well as boys, sometimes even more. The sad part is girls have to prove their worth, every single time."
Shama nods, "If we could bring the carnival to our village, it would help so many people with their businesses. Even our father, he has a shoe business. Can you imagine how many new customers he could get? But it will be really difficult to get anyone to listen to our idea, let alone agree."
As we get closer to their house, we ask them, what's the solution?
"First we need to convince our father and brother. If they agree, we may be able to keep attending school," says Shama.
Neha thinks it's not just family that has to change.
"Society has to rethink the importance of marriage. It cannot be where life stops for girls. A girl can do multiple things at the same time, if she studies hard in school, she can go to college, get a job, run a business, earn money and still help at home. We're multi-taskers! Isn't that more useful than just doing one thing: getting married? We're assets not liabilities."
Once we reach their home, the atmosphere and the girls' tone changes.
The girls stop talking. As we seek permission to take Neha's photo under her grandmother's watchful gaze, Shama whispers, encouraging Neha to smile, "It takes a lot to bring a carnival to a village. It takes even more to get girls to go to the carnival." And for a moment, again, Neha smiles.