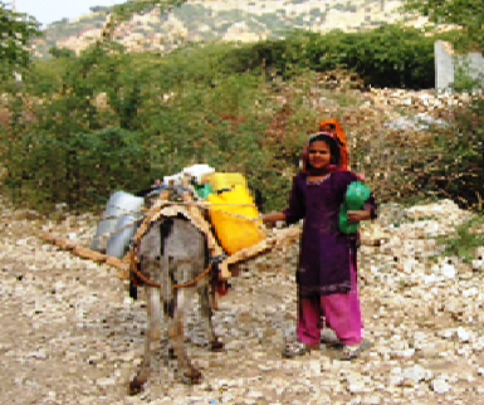 'This project report is a submission to GlobalGiving's 2017 Fail Forward Contest, where organizations are asked to share a story of when they tried something new that didn't go as planned and how they learned from it. Enjoy!'
Sustainable Development Association (SDA) is a right based organization. It has a team of very devoted individuals who are very sensitive and have empathic hearts. They keep them busy in empowering the Right-holders and building the capacities of duty bearers.
SDA started a right based program with salt mineworkers' community residing in a village Rukhla of District Khushab in the Province of Punjab Pakistan.
Rukhla is a beautiful village at the foothill of Salt Range also known as Red Mountains. The Red Mountains are very scenic and fascinating. Residents are poor mineworkers and violations of their rights is a common practice. They work from sun rise to sunset and earn very nominal sum of money. Safety measures are not ensured in the mines and every, year many fatal incidents take place. They are not provided the adequate health facilities and many Mineworkers face different diseases. Their children go to nearby school 3 KM away from their village.
Though there exists a Policy Document but Government Agencies do not take care about it and severe rights violations of mineworkers were very common. Women and children face the most inverse effects. SDA started intervention to empower these marginalized mineworkers. Many meetings and seminars were held to make them sensitized about their rights.
During the meetings, the most burning issue raised was non availability of clean drinking water. The source of water was rain water stored in an open pond at a distance of 1 KM from the village. Animal and human both were using this water pond. Women had to fetch water from this pond.
The team of SDA was shocked to see this painful situation and decided to support the community to provide clean drinking water within the village.
In a meeting Mineworkers told the solution for this issue. A canal was passing 2 KM away from the village. Subsoil water near that canal was suitable for drinking. A bore near that canal was made and pipeline was laid from that bore to the village. In the village, a tank was made with taps. Water was supposed to pump into the water tank and community would have to fetch water from the tank.
Everyone in the community was happy on completion of the project. It was all made by the team of SDA, local community and local mason.
Pumping of water started to the tank. But it was only for less than an hour. The pipe started leaking from many spots. "Oh" why it happened, no one had the answer.
A civil engineer was consulted and he told that the tank is at a height of 500 feet and the pressure was not bearable to the pipes.
We all were sad on failure but gave us strength to stand and start a comprehensive campaign for the provision of drinking water to the village Rukhla. We met the duty bearers and Elected Representatives and highlighted the issue. Within one year, Government approved a scheme and the community was facilitated with clean drinking water.
Symbol of our failure "The water Tank" was used for alternative purpose. Yes community is producing Bio gas from it.
We learned that; for technical work, we must have to consult technical expert as well and only indigenous solution might not work. We learned not only the success but failure also boost and rebuilds our strengths to move forward and achieve the goal. We learned that the product of failure could be used in alternative ways.