ACCELERATED PRGRAM (SUMMER SCHOOL) RESUMES
On the 1st June, 2019, our summer students arrived on campus to begin summer school as scheduled on the Academic Calendar for the 2018/2019 Academic Year. Our summer school students enrolled into Palm Institute in February of 2019. The summer students will be on campus from June 6th to August 14th, 2019. During their stay on campus, they will take courses that were run during the first semester of the 2018/2019 Academic Year to enable them catch up with colleagues who enrolled in September, 2018. The lectures are intensive, packed with activities and projects designed to give our summer students an excellent experience similar to what their counterparts who enrolled in September experienced. All our summer students are beneficiaries of the $1/Ghc 1 for Higher Education Project Funds.
GHANA NETHERLANDS BUSINESS AND CULTURE COUNCIL (GNBCC) & THE NEW BUSINESS CHALLENGE (NBC)
On May, 24th, 2019, Two (2) Palm Institute students; Sandra Ohenewaa Djan and Samira Awal were selected to participate in the Kickoff Ceremony of the New Business Challenge (NBC) organized by the Ghana Netherlands Business Culture and Council (GNBCC). Samira Awal was selected as one of the twenty (20) finalists nationwide to travel to the Netherland for Ten (10) days. Palm Institute wishes Samira Awal well during her travels to the Netherlands. The GNBCC is a Dutch Ghanaian-based organization that organizes and oversees a competition dubbed the "New Business Challenge" (NBC). This competition has been in existence since 2015. It is organized annually between top universities colleges in Ghana and Netherlands. Palm Institute happens to be one of the Five (5) colleges and universities in Ghana that participated in this international competition this year. Finalists of the New Business Challenge (NBC) competition get to travel to the Netherlands for Ten (10) Days visiting and working with their Dutch university counterparts with all expenses paid for by the Dutch Embassy.
Thank you for your continued support.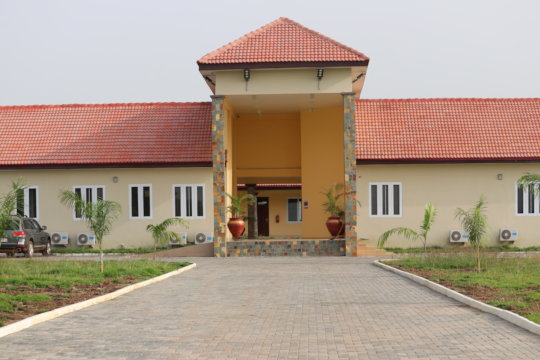 Constructing the first phase of our permanent campus has been an interesting and fascinating journey. However, the contruction process is almost done. Since September, 2019 our students, faculty and staff have been using the new facility to its fullest capacity. Our new location has indeed given our students, faculty and staff the most convenient environment for teaching and learning. It has indeed given us the opportunity to provide the kind of liberal arts education we have always envisioned for our students in Ghana. Without a doubt our relocating to our new campus has enabled us to make significant progress in the Institutional Accreditation process with the National Accreditation Board (NAB) and have aided our quest for Institutional Affiliation with the University of Cape Coast (UCC). Securing Institutional Accreditation and Affiliation will give us the opportunity to run three (3) and four (4) Year Degree Programs at Palm Institute. We are very thankful for how far we have come. However, we have a few outstanding projects to finish in order to finally complete the first phase of our permanent campus. The following are the projects:
Streets Lights: We need to purchase and set up street lights to light up the campus at night to enable our students, staff and faculty travel safely at night to their various individual destinations. It gets really dark at night here on campus and students; staff and faculty find it difficulty walking around and leaving campus on foot. The cost of purchasing and fixing the street lights is $6,580.
Connection to Ghana Water Company: Our campus is currently not connected to the main water source of the country. We currently use a borehole for flashing toilets, washing of dishes and watering of gardens and plants. We need to connect to a potable water source for students, staff and faculty to use. The cost of connecting to Ghana Water Company is $12,272.

Rain Water Harvesting (rain gutters & pipes): Instead of relying on the national source of water supply for watering plants and gardens, we plan on harvesting rain water throughout the year for such purposes. The cost of purchasing and fixing the gutters and pipes for the rain water harvesting is $5,227.

Parking Lot: The parking lot for the initial phase of the campus is unfinished. We would appreciate completing the parking lot. We need 145,000 piece of pavement blocks, about 10 trip of Quarry Dust, 5 trips of River Sand, 10 rolls of large polytene materials for the flloors and cost of paying the workers who would construct the partking lot. The cost of completing the parking lot is $25,000.
Kindly support Palm Institute through NAPE Foundation by donating towards any of the above projects. We are extremely grateful for your continued support.
Sincerely,
Dr. Peter Carlos Okantey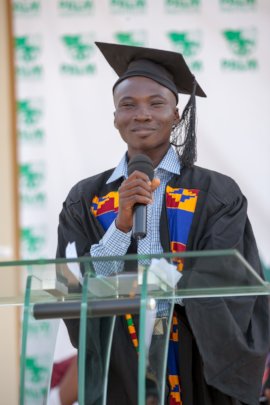 Abraham pursued a Diploma in Computerized Accounting at Palm Institute. After completing secondary school, he was eager to further his education but did not have financial support. Because of this, Abraham worked as a security guard to save money to pursue higher education. He heard about NAPE Foundation, had the opportunity to meet Dr. Okantey and enrolled in Palm Institute.
Abraham feels that the education he received at Palm Institute helped improve his confidence level and boldness. Abraham stated,"The open and committed faculty always go the extra mile to bring out the best in us. Palm Institute has instilled in me a tremendous fire, a passion for life, and a desire to make the world in which I live better." He intends to further his education and start a business of his own one day to help support others like him who are in need.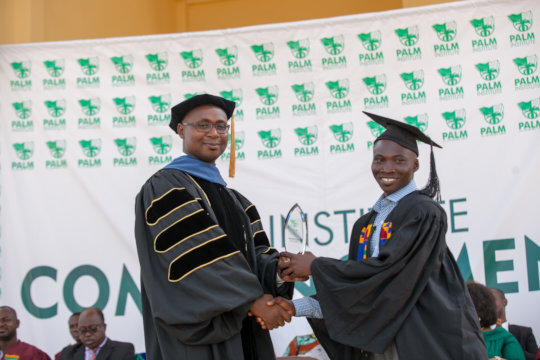 Links:
WARNING: Javascript is currently disabled or is not available in your browser. GlobalGiving makes extensive use of Javascript and will not function properly with Javascript disabled.
Please enable Javascript
and refresh this page.