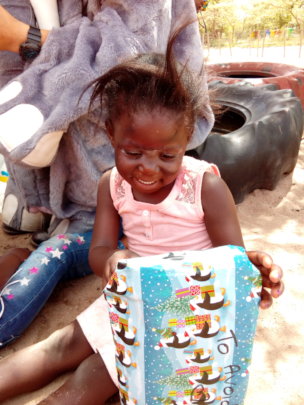 These last few months have been focused around our Financial Literacy projects in the creches – starting the first bank accounts for more than 100 children. Don't you remember growing up – every year your parents putting money into an account for you, for your studies or future one day? We hope the little First Bank accounts we started for these children will encourage their parents to save for them, to be in charge of their finances – and to one day be able to afford school uniforms or school books.
Thanks to some awesome donations during the Christmas season from individuals as well as local school, Southern Cross – we were able again to drop off some amazing educational toys, including blocks, puzzles and so much more at Pfukani, Boikhotso, Keyelani, and Languthelani crèche.
In addition – we hosted a Teacher Training Workshop through Izingane Foundation – where we focused on challenges and successes in Early Childhood Development, the importance of a routine, and how to make easy educational toys. It was an honour for me to see such lovely teachers, an honour to have Lonie from Izingane host the workshop - and an honour to have Belgian ECD teacher and intern Sabrina share her love of teaching and how to make simple resources. So EDUCATION – RESOURCES –and FINANCIAL LITERACY have been the course of the day.
Plus of course Christmas and the first NOURISH Graduation. We are so fortunate to have several of the Nourish crèche children sponsored- and it was partly through this funding (and another GlobalGiving Christmas campaign/private donors) that we hosted a special special event. 6 little Nourish graduates in cap and gown proudly graduated to Grade R ( "big school") parents were so proud,hugging us and crying. In Africa – this symbol of going to school is a special one, a privilege that many grannies and old parents in post-apartheid South Africa don't take for granted. It was so special for us to share their joy in seeing their childrens singing and dancing and performances. So clever our little kids! Thank you to all the donations that made sweets, toys, and even the first school uniforms possible. To every donation – and in specific every child sponsor, please never underestimate the difference your money made in the lives of these little children. Instead of the usual Santa – we brought in some CONSERVATION love with Mr Elephant handing our the prezzies, trepidation and then little hands lovingly stroking Mr Elephant as they excitedly got their gifts.
To all we wish you a wonderful Christmas- and we bear in mind the words of Mother Theresa-
We can do no great things – only small things, with GREAT LOVE. Thank you all!
PLEASE check out the link for the photos of the Graduation, & Christmas ( WIFI too bad to upload pics unfortunately ) so please check out the link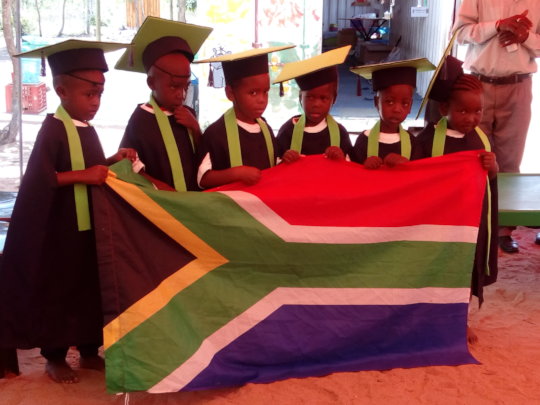 Links: