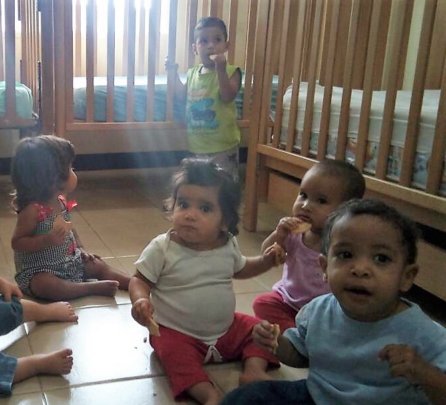 The current situation in Venezuelan presents a multitude of challenges that negatively impact the quality of life of every family in the country. These challenges are particularly acute among vulnerable and disadvantaged families.
These adverse conditions have a direct effect on early childhood development as children are those most affected by food and medicine shortages currently gripping Venezuela.
As a result, requests for children to be placed under our care is growing at a rapid pace as families simply cannot meet the basic needs of their children. We have also seen an alarming increase in the number of abandoned babies and children as families are unable to overcome the challenges presented by the nationwide scarcity of basic goods.
As a result, Hogar Bambi Venezuela faces a very complex situation.
Part of our mission is to offer a provisional shelter program for children and adolescents that upholds their fundamental rights and restores their health and social, psychological, educational, and nutritional wellbeing. As an institution, we strive to find greater resources to expand our operational capacity and better meet the growing needs of those under our care.
As scarcity and inflation in Venezuela continue to worsen, the assistance we once received from individuals has declined markedly. This complex reality forces us to look for financial support outside our country. A great effort has been made to ensure that our little ones have everything they need. However, we must redouble our efforts to guarantee we can provide the highest level of attention our children deserve, focusing on the search for food, medicine and other basic goods.
Despite current uncertainty in Venezuela, there are still people who want to help. It is through this generosity that we have been able to acquire a fifth home to continue to protect children at risk. We must now focus on finding the resources to equip this new house to meet the needs of the children that will call it home.
The situation in Venezuela is highly complex and requires great cooperation and contributions from generous individuals. This assistance allows us to continue providing shelter to our children, who are unwitting victims of a society in crisis. We count on you.