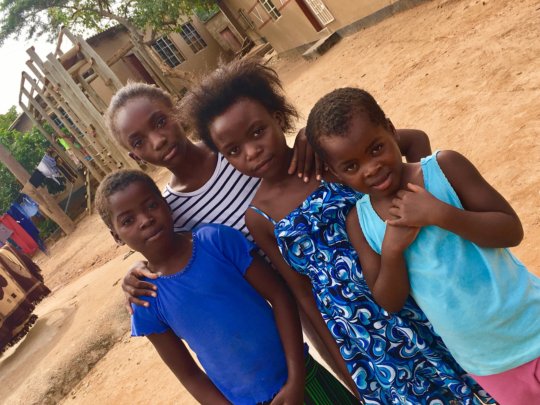 I am sharing this letter with you all because these words echo the thoughts in my head as I thank God for each one of you and your commitment to educating girls in Zambia. I feel blessed.
Dear Mama LInda,
How are you by this time?
My name is...... one of your graduated children who was at Flying Angels Secondary school. I am among those grade twelve students who completed in 2016.
I am writing this letter to you for the great job you have achieved in my life. It wasn't an easy thing to find people like you who have a heart to educate a girl child like me until the end. It takes people who have love and care to take someone else's child to school. For this reason I say thank you so so much mama. You are really a blessing indeed to people who are surrounded by you. I am really grateful that I have completed my grade 12. Without your help mama I can't be the way I am right now. I know it has been a very long journey but here I am with great joy and a big smile on my face that you have managed to make me reach my last destiny.
I am so humbled mama, may the Almighty God continue blessing you abundantly for the mighty job you are offering to people. I have much to say but only to shorten my words, you are my hero! and my inspiration! I always will love you and remember your great work that you did for me.
Yours faithful,
oxo
Dear friends,
Happy New Year! In an effort to minimize reporting and maintain clarity of purpose we have chosen to shut down this donation page and would like to ask each of you as you support our students to do that through the Classroom Sponsorship project.
Secondary School & Supplies for Excelling Students has been a key point of encouragement for us and our students and we really would like to have you continue to support our students through Classroom Sponsorship.
We appreciate you and all that you have done to help our students to this point.
Many many blessings to you and your family for the new year.
Sincerely,
Linda
As we hunker down this winter in the Northern Hemisphere, in Zambia our students are sweltering. They leave the hot dusty streets of Ngombe and walk with relief into the Chikumbuso compound where we have fresh running water to drink, cool classrooms with lots of windows, and a welcoming atmosphere that reduces temperatures and calms spirits.
It's hard to overestimate how much they will miss coming to Chikumbuso during their Christmas break. The regular meals, the access to internet and books, the camaraderie, the safety. These are things we take for granted, but that are a special relief for our students from the heat and misery that surrounds them.
By sponsoring a classroom, you are making sure that we continue to be a place of relief and learning. Your support ensures we have the supplies we need to keep educating our kids. We hope you will be a "cool breeze" for our students this year!
WARNING: Javascript is currently disabled or is not available in your browser. GlobalGiving makes extensive use of Javascript and will not function properly with Javascript disabled.
Please enable Javascript
and refresh this page.