After a lot of work during the last years, today Rosario city has a network of 14 minilibraries installed. And this are great news. Vandalism, the big 'threat' of the project and fear from some skeptical people, was little. And profits were high, in terms of happiness and well being of the people in contact with them. It is forecasted than by 2030, 70% of people will live in cities. This is an important piece of information since we will need to build cities for people, cities that creates good moments and promote happiness. How do we actually 'feel' about our lifes. Cities can play a big role in this and must be regarded as more than engines of wealth, they must be viewed as systems that should be shaped to improve human well-being.

Public mini libraries promotes trust between the citizens, and trusting our neighbours, police, government and even total strangers has a huge influence on happiness -even more than income does-. There is an incredible amount of data that shows that access to quality public spaces with activities to do and public parks reduces depression, mental illnesses and violence. Therefore, these little libraries may be the top of the iceberg to rethink policy making that prepares cities for the future and puts human well-being in the center of the debate.
We started a new year full of new challenges and opportunities. For 2017 we made many changes in the way we are implementing the program as we introduced more artistics concepts mixing virtual and real worlds together.
Last week kids worked on animations made out of clay. The video is still in Post- production phase and we will be able to share it with you soon. For the time being,you can have a sneak peak on pictures.
On a more general note, this new year we are having 14 programs where 180 kids aged 7 to 18 are participating developing life skills, using platforms such as sports, music, arts and cooking.
As I always mention in my reports, please follow us on Facebook, Twitter and don´t hesitate to contact us if you have any doubts or comments.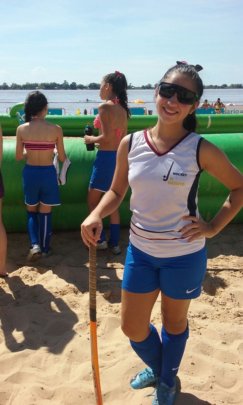 Once again we are getting ready for a new year, in just a few weeks we will be starting the hockey programs to empower a new generation of incredible girls, this means checking our equipment, working as a team on planning the activities and training our whole staff in a series of trainings and workshops.
But getting ready doesn't mean that there is no "action" going on, for the second time we were invited to participate in a beach hockey championship next to the beautiful Parana river in our city. This was a great opportunity to have a lot of fun with the girls, not only on the sandy field, but also while lying in the sun.
Exciting things will be happening in the next couple of weeks, follow us on Twitter, Facebook and Instagram to keep updated and thank you for making it possible to keep empowering girls!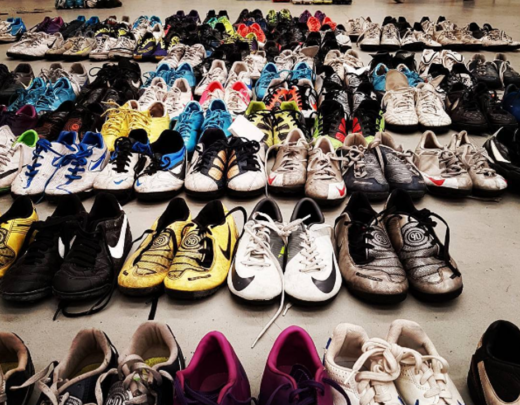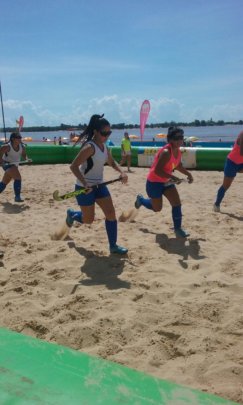 WARNING: Javascript is currently disabled or is not available in your browser. GlobalGiving makes extensive use of Javascript and will not function properly with Javascript disabled.
Please enable Javascript
and refresh this page.