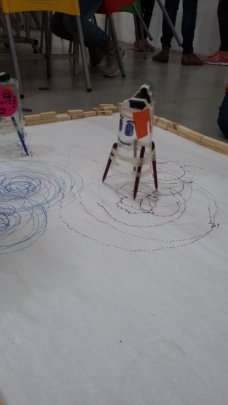 Coding is all about 1's and 0's, but who said it should be black and white?
In our "Code your Future" workshop we know that art is a very important thing in youth development as creativity is what will help us discover solutions in the future for problems we still don't know we will have.
During the sessions, participants started experimenting with basic robotics, and one of their creations was a "Painting Robot". This activity was definitely not an easy task, first it was deciding what the robot´s purpose was, then, creating the structure and lastly making it work.
For the following months we are planning to visit a couple of companies that work in software creation, experimenting with a 3D printer and to keep on coding and creating cool stuff.
Please, stay tunned for more news, follow us on Facebook, Twitter and don´t hesitate to contact us if you have any doubts or comments.