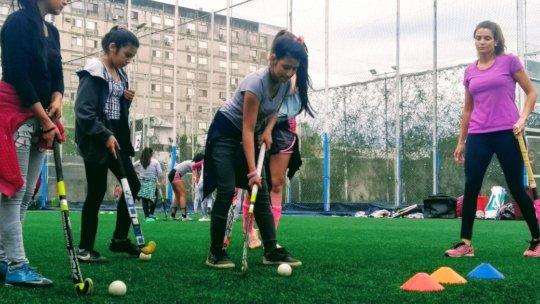 During this period, we continued to work through hockey on what´s really important- developing life skills that will make the difference in girls life's. And what a better way to do so, than talking to other people that can share their stories.
First we had the visit of Agustina Bouza, a former "Leona" (National team player) who is also a local city council member. She shared her experience playing sports at the highest level, and how what she learnt helped her shape her life now, and what it means to be a city council member.
After that, we received a team visit from the UK – Spanish students who were visiting Rosario and wanted to share an afternoon with us. At the beginning language was an issue, but after a while, the common language of sports bonded everyone, and just like that, after an hour, it seemed that they all new together for so long.
On another note, our Happy Cities Festival was a total success- two days of inspiration to share knowledge and exchange ideas on how to create a better city for all.
As I always mention, please follow us on Facebook, Twitter and don´t hesitate to contact us if you have any doubts or comments