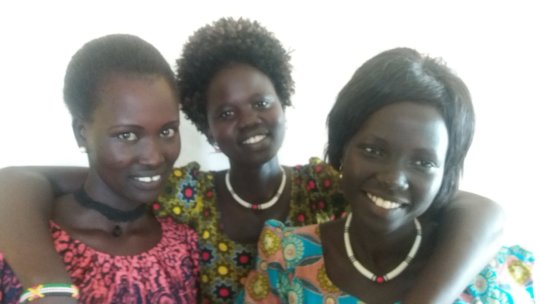 Crowds line the dusty road that serves as "Main Street" in Bor, South Sudan. Waves of parade entries make their way between thousands of cheering onlookers. Each entry has 20-40 brightly uniformed participants chanting, dancing, singing. The enthusiasm is engaging. This is Christmas day in Bortown, capital of Jonglei State. One week later, the spectacle is repeated for New Year's Day. This extended year-end celebration is a big deal and draws many South Sudanese back to their home towns from around the world. This is not a jeans and T-shirt, come as you are event. This is a day to dress up. It is festive. The Christmas and New Year's celebrations demonstrate the resiliency of a community that lives daily with the results of civil unrest and lack of common resources like libraries, electricity, roads, and even food. The news is not all good; yet they celebrate!
The high school girls in the PESS scholarship program carry this spirit of optimism with them into the classroom. Most of the students we support in the program come from families with missing parents, parents lost in long periods of civil war. Many live with relatives who have taken them in, or live with unemployed parents, jobless due to the devastated economy. When girls are able to go to school, they are customarily expected to work all afternoon after school. They haul water; they grind grain; they cook; they take care of young siblings. It is usually dark when the evening meal is done, and with no electricity, many students find it hard to do homework. PESS has done a couple things to help. We have instituted after-school tutoring supervised by teachers who are eager to stay longer to help students for a little extra money. Many families are willing to let their girls stay after school for tutoring before they come home to do household work. PESS has also bought headlamps (like the kind miners wear) for the students so they can stay up later in the evening and do homework. Students have eagerly accepted this help, and, among adults, a culture is growing of greater acceptance of girls succeeding in school. This shift in thinking will pay huge dividends in developing better leaders in this young nation.
Eight of the students that PESS provided scholarships in 2017 graduated. All eight students passed their national secondary school exams. Not all of these students will be lucky enough to go on to university, although all of them wish to. Many families simply don't have the funds to support ongoing education. The lives of these eight students, however, will be forever changed: their economic opportunities will be greater and, if they become mothers they will emphasize education for their children. Three of these students are now working in the office of PESS in Bor. Two receive a small amount of pay and the third is working as a volunteer. They are working to help Daniel Gai, our Executive Director, build the vision of greater leadership through education. All of us looking on are saying, "Yay team!"
PESS wants to increase its number of scholarships for girls by 25 this year. That's a big increase from the 50 scholarships we provided in 2017, but She's The First, our great partner in NYC has already committed to take on 7 of these new scholarships. Only 18 to go! We're working on that and maybe you would like to help. We are so grateful for all of you who help through GlobalGiving. With your help we are making a difference. THANK YOU!