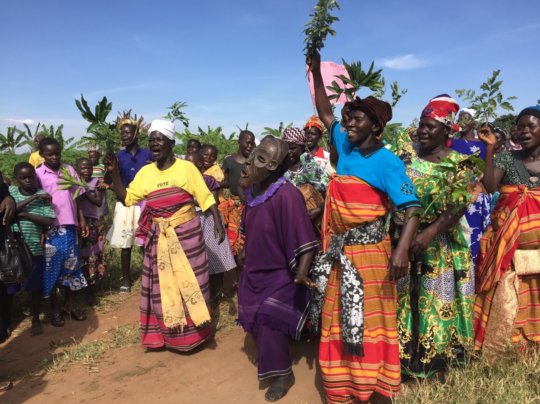 Dear Lifeline supporters,
As we reflect on the successes of the past year and look forward to exciting new opportunities to collaborate with rural communities across Northern Uganda in 2017, Lifeline is thrilled to report its most recent achievements.
24 Boreholes Transferred to Apac Communities
Throughout December and January, Lifeline completed the transfer of 24 newly drilled boreholes to communities across the Apac District in partnership with the Rotary Clubs of Spring Lake, Michigan and Lira, Uganda. In total, these boreholes are now benefitting 11,800 villagers who are no longer forced to drink from contaminated water sources or to travel long distances to fetch water.
Lifeline's determination and technical expertise were tested throughout this project, particularly at the village of Zanzibar B. For years, this community has struggled to install a borehole that would provide sustainable access to clean drinking water. On three occasions, the Apac District government attempted to drill for water in this village, but was unsuccessful. In light of the District's challenges, Lifeline stepped up to the task, but also faced dry hits on the first two drilling attempts. Finally, on Lifeline's third attempt (the sixth attempt overall) the hydro team tapped water and was able to install stainless steel piping and a hand pump.
This borehole is an astonishing 78 meters in depth (nearly 256 feet), one of the deepest Lifeline has ever drilled. A typical deep well reaches between 45 and 60 meters in depth, while a shallow well ranges from 18 to 30 meters. The immense depth of the Zanzibar B borehole means that it will, in turn, demand greater oversight and maintenance from the community to ensure its functionality in the years ahead.
To see that the village succeeds in maintaining this water point, Lifeline trained 9 community members to serve on the Zanzibar B Water User Committee and performed a special "marriage" ceremony to celebrate the community's lifetime commitment to clean drinking water. This "wedding" brought together Lifeline and the Zanzibar B community in a union to protect and preserve the functionality of the borehole in partnership with the District Water Office. After vows to maintain the site were exchanged, Lifeline continued the celebration with games like the Pumping Olympics and Guess the Price to emphasize proper pumping techniques and routine maintenance tasks that will sustain the longevity of the water point.
After all of the years that Zanzibar B residents struggled to access clean water, Lifeline is proud to continue working closely with this community to ensure that this borehole supports their good health for years to come.
Rural Wood Stoves Benefit South Sudanese Refugees
This past December, Lifeline distributed 183 EcoSmart wood stoves to South Sudanese refugees at camps in the Kiryandongo District of Northern Uganda. In collaboration with the United Nations High Commission on Refugees, these stoves were delivered to particularly vulnerable camp residents identified as Persons with Specific Needs (PSNs), including 68 single mothers, 55 elderly refugees, 25 persons with disabilities, 30 at-risk women, and 5 individuals with severe medical conditions.
Lifeline's EcoSmart Rural Wood Stove offers approximately 42% fuel savings compared to a traditional three-stone fire, allowing users to cut their use of wood fuel nearly in half. For those tasked with collecting firewood for their families, typically young women and girls, this means up to three hours of time saved each week and a reduced exposure to sexual assault, which often occurs as girls are traveling alone in rural areas to fetch firewood and water.
One stove beneficiary, Joseph, appreciates how Lifeline's stove will ease the challenges he faces with collecting firewood and cooking in a wheelchair. "It has been so difficult for me to collect firewood like other able bodied people," he says. "I am thankful to Lifeline and UNHCR for selecting me as one of the beneficiaries of a stove that uses very little firewood and cooks faster. I can now worry less about spending too much time out in the field collecting firewood."
In the coming weeks, Lifeline will deliver another 67 EcoSmart wood stoves to the refugee camps of Kyriandongo to impact a total of 250 beneficiaries through this program.
Lifeline would like to thank all of those who generously contributed to bringing clean water and cooking solutions to Northern Uganda. This work would not be possible without you!
- The Lifeline Team