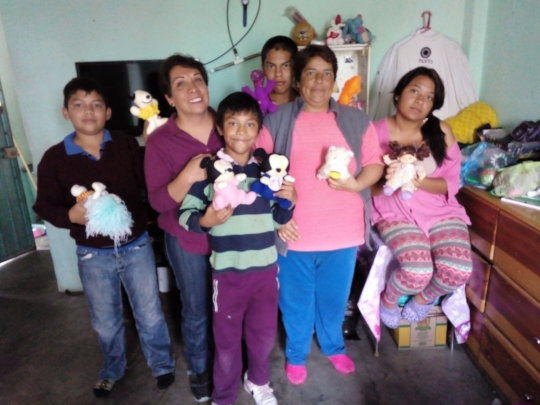 Meet the Garcia Family.
We all have a dream in life and the Garcia´s family dream is to have a house to live in comfortably. Rocio* had six children: Luis, 21 years old; Alejandra 17; Daniel 16; Manuel 15; Alberto 13 and Ramón 10. All have different goals, but they share a common goal: to build a family environment of respect and collective participation.
After almost seven years of living apart, they face a broad and complex challenge: learning to be a family again. Recognizing and integrating as a family was part of the first stage. After the years they were separated, it was not easy to live together again; Rocio told us. Now 46, she has had to work very hard to encourage and motivate her children toward a better life. The "Family Support Program" (PAF) has been a great help to the García family, who since 2013 participated in various activities at the Pro Niños foundation. The Garcia family has regained the communication, confidence and security that they lost for many years, through participation in workshops, family dynamics and collaborative work.
Luis, the eldest of the family; at the age of 21, has begun an independent life and together with his wife and son, they are beginning to write their own family history. Now his goal is to move his family forward and not make the mistakes of the past.
Alejandra, aged 17, lived a large part of her childhood in an orphanage, and now, after returning to live with her mother, has become her right hand. The trust between both has been reinforced as a result of the gradual support offered by the PAF. Today Alejandra, with a scholarship and excellent academic reports, has a very clear goal: finish high school and study architecture, which she will undoubtedly achieve.
Daniel, who has participated in the PAF's sports activities, is beginning his studies in high school. He knows that the rules of coexistence at home are important to maintain a healthy relationship with his brothers. At 16 he knows that his studies will be a bridge to opportunities in the future.
As for Manuel, he is in his second year of junior high school and actively participates in the activities at Pro Niños. He is the closest to his sister Alejandra and helps at home to organize household chores. And his favorite part of the PAF is undoubtedly the camping outings, which have helped his emotional and cognitive development.
Ramón, the youngest of the family, is a very intelligent, extroverted and charismatic boy who has been diagnosed with Attention Deficit Hyperactivity Disorder (ADHD) and his permanence in school has been interrupted. The challenge for Ramón is to build better relationships with his brothers. Today he practices swimming and is in the process of resuming his studies.
Rocio tells us that the pieces were falling in place little by little. She recalls with tears in her eyes, the story of her family none have had an easy road to follow, each with its own history, and each with its own struggle. Today, and thanks to the effort of each of the members of the family and the support of the PAF, the future looks very optimistic. As this puzzle continues to be formed, the family is more united and communication and teamwork is making them a better version of themselves.
*The names of the mother and her six children have been changed to protect their identity.