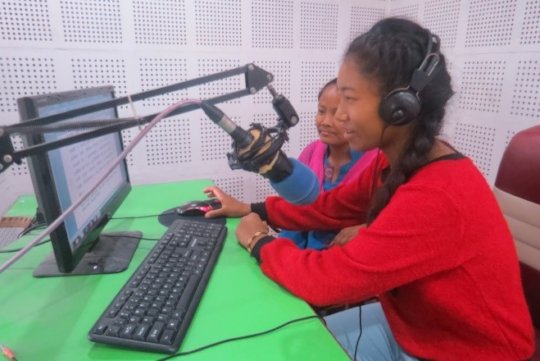 Every day we broadcast anti-trafficking messages to remote communities in Nepal via a local radio station. Last year we broadcast twice daily in two languages and estimate that we reached over 100,000 listeners. We broadcast scenarios that highlight the tricks and tactics that traffickers use.

When it came to re-record these messages we thought it would be great if some of the young people from our care homes could get involved. So Sitamaya and Harimaya went to the studio to record the Chepang version and they did brilliantly! What a powerful statement - for trafficking survivors to be warning others of the dangers.

This year we have increased our campaign; in addition to Tamang and Chepang we now broadcast in Nepali too. The jingles will be broadcast ten times a day, and we hope that with wider coverage we will be able to keep even more people safe.
Thank you so much for your continued support!
We are writing to let you know that we have just rescued a 13-year-old girl and brought her to the safety of Marigold House. She had been working in a hotel for the past few months, waking early to clean rooms and wash dishes. When she finished work, the hotel owner sent her to guests' rooms where she was subjected to sexual abuse and taken to dance bars.
The hotel owner repeatedly threatened her, saying that no one would believe her story and, even if they did, she would be shunned by society. Scared and trapped, she felt unable to tell anyone what was happening to her. Fortunately an outreach worker from our partner, Shakti Samuha, spotted her and was able to facilitate a fast rescue.
The girl was extremely traumatised when she arrived at Marigold House, and so our experienced staff have been caring for her needs. We will continue to support her long-term recovery.
Thank you for belief in our work. It's only because of people like you that we are able to save lives.
To support more children forced into exploitation, please consider donating again.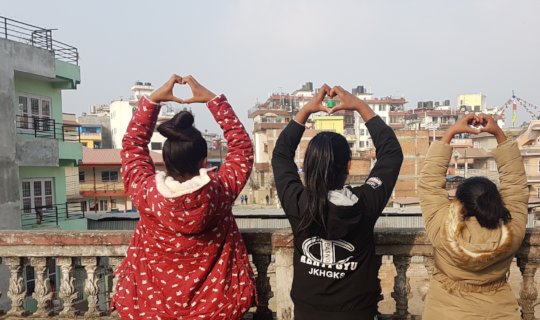 Early in January, three sisters were rescued from a guest house and taken to the safety of Marigold House. Aged 15, 13 and just 8, they had been trafficked from the remote district of Rolpa by a relative after their mother died and their new stepmother rejected them.

At the guest house they were forced to clean rooms, wash clothes, cook and serve food. In the evenings, the work took on a more sinister nature. Initially selling alcohol and cigarettes, soon the girls were subjected to sexual abuse whilst the owner turned a blind eye. Instead of being in school, these very vulnerable girls were exploited to line the pocket of the guest house owner.

The girls were very traumatised when they first arrived at Marigold House, so they are now receiving one-to-one counselling and support. The youngest two sisters have never attended school, so they are receiving informal education starting with very basic numbers and the Nepalese alphabet. We are trying to trace an older sister who may be living in Kathmandu. But the main thing is that they are safe now, and we will support them for as long as is needed.
Please donate again if you can to enable us to rescue more children in 2019.
WARNING: Javascript is currently disabled or is not available in your browser. GlobalGiving makes extensive use of Javascript and will not function properly with Javascript disabled.
Please enable Javascript
and refresh this page.