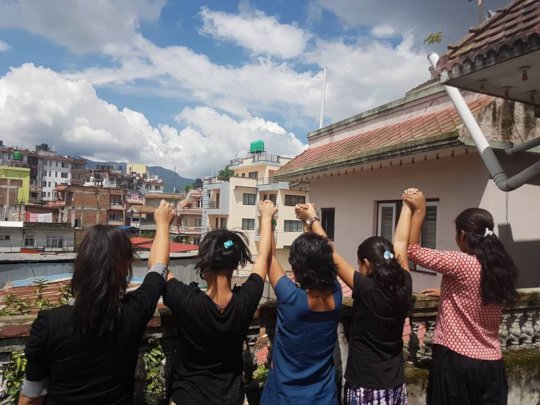 Background

Marigold House was established in April 2018 as a safe place for girls under 16 who have been victims of sexual exploitation and have been rescued from the entertainment sector or hotels. Girls are provided with accommodation, education support, counselling and life skills. If it is possible for girls to be reintegrated with their families, then they will continue to receive education support. If appropriate, the family will also receive support in income generation so that the families become economically empowered to minimise the risk of being re-trafficked.
Out of the eight girls rescued so far, six girls are still in Marigold House receiving shelter and educational support. Two girls have already been safely reunited with their families. Additional support which is offered as appropriate includes psychosocial counselling, medical support and level advice. Rescued girls are receiving non-formal education to get them back up to speed before re-joining school. Girls already back at school are provided with extra tuition and homework support.
Roshna's story
Family background:
Roshna is 13 and was born in Letang from the Morang District. Roshna's father went abroad for foreign employment when she was quite young. During that time her mother eloped with another man and Roshna was left alone. By the time her father came back to Nepal she was being brought up by her grandmother. Returning to Nepal, her father married again. The attitude of the new stepmother towards Roshna was very harsh. Her stepmother used to drink alcohol and often fought with her father. One day her aunt (Father's sister) came to Roshna's house and tried to convince Roshna that she could look after her and help her to study in Kathmandu. Due to the cruel behaviour of her stepmother, Roshna chose to travel to Kathmandu to continue her education in better way.
Details on exploited situation & rescue:
Initially, after coming to Kathmandu, her aunt behaved well to her. But as the days passed, her behavior gradually changed. Her aunt took all the money and jewellery that Roshna had brought from her home. Her aunt enrolled her in a school but at Grade Two, whereas Roshna had been studying Grade Six back in her village. Soon she was made to work in her aunt's restaurant – sometimes during school hours. In addition, Roshna felt humiliated studying at Grade Two and soon dropped out of school completely. She was then forced to work in the restaurant continuously, from early in the morning until late at night. She had to sell and serve alcohol to the customers. Drunken customers used to misbehave towards her but her aunt never intervened or protected her. Customers started to touch her inappropriately and proposition her. Eventually she had no options left but to give in to their demands, even at such a young age.
Field staff of our partner Shakti Samuha found her in this vulnerable situation and coordinated with Gangabu police. On 12 July 2018 she was rescued from her aunt's restaurant and referred to Marigold House for further support.
Support provided:
After coming Marigold House, Roshna received a safe shelter, food, clothing, medical support, psychosocial counselling and non-formal education. A week after her rescue, her family was traced. Her father was found to be very positive towards her. During the reintegration assessment, Shakti Samuha found that her family environment was safe for her to return to. She was formally reunited with her family on 25 July 2018. Roshna says she is happy to be back with her family and has restarted her education at Grade Six in her village school. Her father is thankful to staff at Marigold House as he was not aware of his daughter's situation. SS will continue to follow up with Roshna to ensure she stays safe and well. During the latest phone call, Roshna shared that she wanted to continue her education and become a successful person in life.

Thank you for supporting our mission to end child slavery in Nepal. We are so grateful to those who are funding the rescue and support of boy and girl victims of slavery. With your support we can literally save lives. Please donate again if you can.