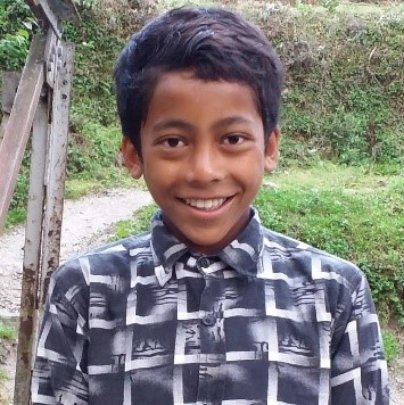 Whilst rescuing children from slavery is an important part of our work, preventing children from being trafficked in the first place is far better, and far more cost effective. We keep children 'safe in school' and out of the hands of traffickers, through providing educational bursaries that enable to the most disadvantaged children to attend school.
Often families are unable to buy necessities such as uniforms, shoes and stationery, putting them at risk of dropping out of school due to the shame of being dressed differently to other children or having nothing to write with. We provide them with one-year bursaries for essentials such as uniforms, bags, exercise books, paper and pencils.
Manoj was 12 years old when he was found working in a metal factory where he had been trafficked by an uncle.
Coming from a large family, Manoj's parents struggled to support their children on a very low income. Manoj was aware of his family's difficulties and, being the eldest son, wanted to earn his own living to support them and rid them of the financial burden of his education. Against his parents' wishes, he quit school and was taken to Kathmandu by an uncle who promised him work.
Manoj worked in the metal factory from 6am to 6pm every day, engraving designs on copper plates with a hammer and using chemicals to burnish them. The chemicals burnt his skin and the wounds were not properly treated. For all this work he was only given a few rupees.
Manoj and the other boys were rescued by local police, social workers and our team in Nepal and cared for in our safe house, given counselling and medical checks, and was eventually reunited with his family. We provided him with an educational bursary so he would never have to choose between school and work again.
Providing an educational bursary for a child, like Manoj, to attend secondary school costs just £24 a year.