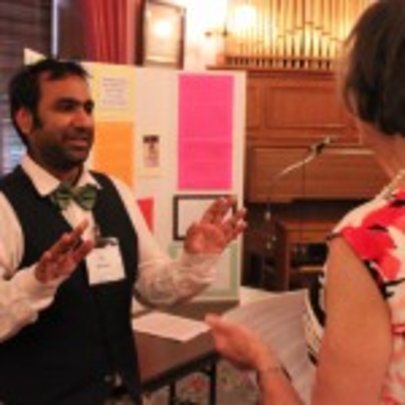 All year, Inspired Teaching Fellows have engaged their classroom students as partners in a classroom investigation. Working together, teachers and students have worked to answer such questions as:
"What happens to our writing skills when we accompany writing time with music?"
"Do we learn more when we create a podcast about the topic we are studying?"
"Does meditating a little bit every day help increase our focus?"
After a year of delving into these questions with their students, the Inspired Teaching Fellows shared their findings at a public forum. Through interactive presentations, Fellows shared conclusions and unanswered questions; and the possible next steps for expanding their classroom research projects. Their work highlighted the role of teachers as changemakers in classrooms, schools, and society.
The themes of our Fellows inquiry-based projects are as follows:
A Novel Idea: Book Clubs in the Elementary Classroom
Transitions in the Early Childhood Classroom
Mindfulness-Based Interventionsin the Classroom

Questioning as a Strategy to Promote Deeper Learning
The Effect of Student Autonomy on Writing Development
Students as Content Creators
Brain Breaks and Behavior
The Power of Effective Transitions
Classroom Transitions: How Teacher Expectations Impact Classroom Efficiency
Using Art to Increase Student Engagement in Math Centers
The Language of Reengagement
The Music Effect
Overall, it was an exciting evening for educators looking to learn from each other's classroom practices and investigations.
Links: