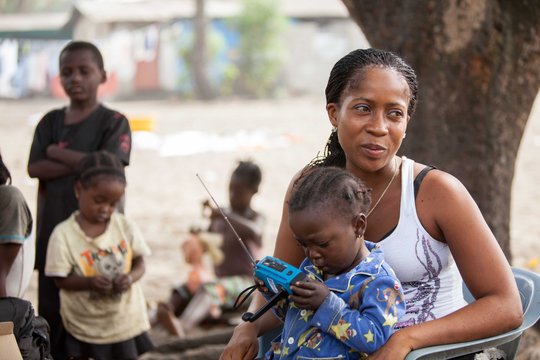 Since our last update, we're happy to say that we've sent a further consignment of our emergency Polaris radio-lights to Liberia. Our local partner, the United Nations Development Program (UNDP), has distributed the radios in areas where they've been enthusiastically received. The Polaris is an ideal product in such emergency situations – it's providing people with trusted information and support, light at night, and isn't reliant on batteries or electricity for power.
One of the recipients of the Polaris is Josephine, a 32-year-old Ebola survivor who lost 29 family members, including her husband and her three children. It is hard to comprehend the enormity and devastation of her loss. What is so remarkable about Josephine, though, is that she has since taken in and is looking after six children who had also lost their families to the virus. Our gift of a radio seems like a small gesture indeed measured against the generosity and compassion of her heart – but we are grateful that the Polaris is able to make a positive difference in her life. Josephine was interviewed by the UNDP after receiving her Polaris – and you can listen to her words here.
Reports coming out of Liberia indicate that the Ebola outbreak is largely under control, but it will be months before life starts returning to what is was before. Radios – and the life-saving support they provide – are still urgently needed. People have been left even worse off financially, and are unlikely to be able to afford batteries for radios. We will be continuing to raise funds for further units to Liberia; and the UNDP will distribute as many as we can send.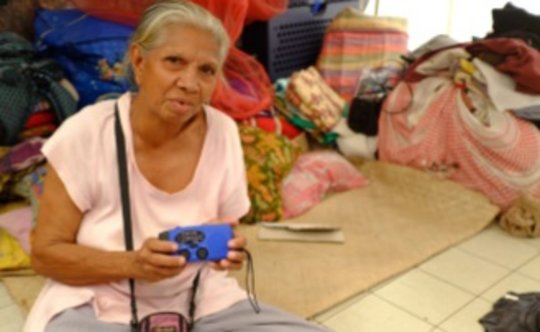 Our local partner in the Philippines, the International Office of Migration (IOM) recently interviewed Epong, a 70-year-old woman currently living in an evacuation center. She received a Polaris solar radio/light, and had this to say: "I am really thankful for IOM's Dear Bapa Nur radio drama. It didn't just entertain me, but also taught me how to make sure that our drinking water is clean and safe, and where I should go whenever a family member gets sick … I am really fond of listening to afternoon radio dramas since then. I find it very interesting, especially that these dramas are somehow related to our situation now."
IOM's Communications with Communities initiative continues to provide its communication campaign Tindog Kita through radio and print media. On the radio programs, key messages are broadcast on issues ranging from seasonal diseases to rehabilitation of disaster-affected communities, and of course the radio dramas that offer practical advice in an entertaining way.
We are thrilled that our Polaris radios are allowing families in the Philippines not only to listen to useful information, but also to receive the psycho-social support that being connected to the outside world brings. In many places electricity has yet to be restored.
As life slowly begins returning to normal for the communities living in Tacloban, we will be closing this project to focus on other areas of desperate need in the world. We thank you – our generous and supportive donors – for the difference you've made in the lives of people like Epong.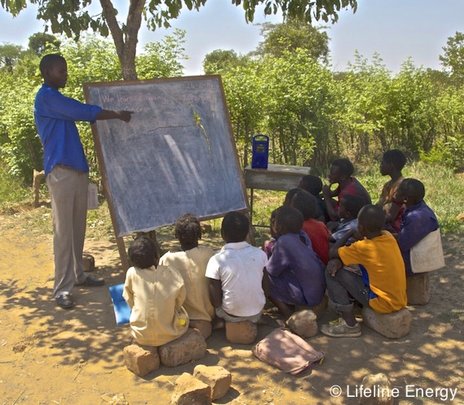 Taonga Market is Africa's longest running primary school distance education program. Lifeline Energy has been involved from the beginning in 2000 and we're just as enthusiastic now as we were back then. We continue to witness first hand how much children enjoy learning to radio lessons and how they score up to 10% better than children in government schools. This is despite not having formal classrooms, books, school supplies, or even chairs to sit on.
Our Kristine Pearson recently returned from Zambia where she trained Taonga technical staff and teaching mentors in the Southern Province in the use and care of the Lifeplayer MP3. Some grades of Taonga Market still continue to be broadcast on community radio stations, but often at times not convenient for the young learners, especially during the hottest time of the day. Throughout the rainy season walking to class on muddy roads is impossible, as is learning outdoors. The Lifeplayer helps to overcome weather obstacles, in that lessons can be listened to in the mornings when children have more energy and the heat isn't as oppressive, or when it isn't raining.
A retired Ministry of Education official who continues to work with Taonga learners in community schools said, "The Lifeplayer is truly a great device for us. It makes learning possible any time and if a child misses a class she or he can listen later and make it up. Children will be less likely to fall behind."
The Lifeplayer is needed now more than ever. Stable, a new volunteer teacher (pictured here) remarked that the Lifeplayer would allow him to listen to the lesson first so that he could be prepared.
Your support is vital to sustaining our ability to provide these rural community schools with the Lifeplayer – a critical teaching tool for mentors and learners alike.
WARNING: Javascript is currently disabled or is not available in your browser. GlobalGiving makes extensive use of Javascript and will not function properly with Javascript disabled.
Please enable Javascript
and refresh this page.