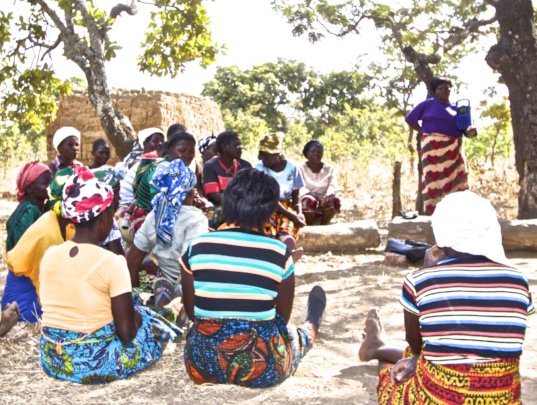 We realised that one of the things we've spoken little about when it comes to Farm Talk and our radios is how farmers are growing crops not just for themselves and their families, but also for commercial sale. Using the principles of sustainable agriculture, farmers produce a surplus to sell for profit. We'd like to share with you how the COMACO process works.
Farmers cooperatives all across the Luangwa Valley in Eastern Zambia listen to Farm Talk on our Prime radios or Lifeplayer MP3s. They learn how to grow various crops using conservation farming methods. The collectives sell their pesticide-free crops at a premium price, such as peanuts to COMACO buyers, for example.
The peanuts, or ground nuts as they are called locally, are taken in large bags to the peanut butter processing located behind COMACO offices in Chipata (known as Fort Jameson during British colonial times). COMACO's peanut processing plant is the largest in Zambia.
The peanuts are then sorted and shelled by groups of women, who also listen to our Prime radio while working. The shells are then pressed into briquettes which are used for cooking by a pressing machine. The briquettes are then sold to locals. This helps to curb deforestation. Zambia has one of the world's highest rates of deforestation.
The peanuts are then processed in sanitary conditions into delicious, organic peanut butter free of colourants and preservative and put into jars for sale across Zambia under the It's Wild brand. It's Wild premium peanut butter is then sold in major grocery stores across Zambia. Given its superb quality, export markets are opening up as well. COMACO produces thousands of jars per month.
CEO and founder, Dr Dale Lewis, said that the COMACO business model unlocks the potential of small-scale farmers. "The model is workable for both skilled and unskilled farmers. Farmers are exposed to lessons about preserving soils, forest and growing the right crops." This approach enables farmers to increase yields to sell any excess for a profit.
ifeline Energy has been working with COMACO for nearly 10 years to provide access to vital farming information on the weekly Farm Talk programme. You can be rest assured that your donation to this great project pays dividends in many ways. We're immensely grateful for your continued support.