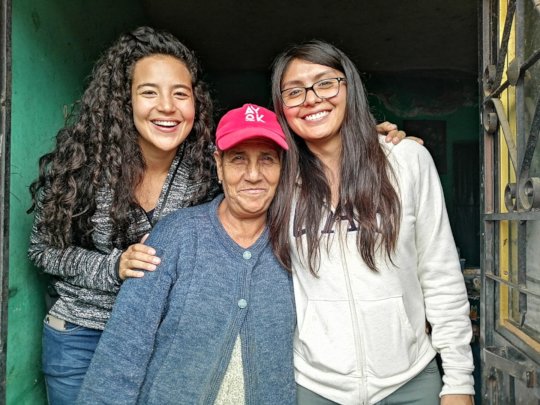 This past August, GlobalGiving's Mexico Field and Evaluation Team traveled around the country to visit with our nonprofit partners and to experience firsthand the revitalization of communities affected by the 2017 Mexico Earthquakes.
These visits, conducted by our incredible team of eight field travelers, were an invaluable opportunity to explore the progress achieved by our nonprofit partners in the two years since the disaster. All reports pointed to measurable successes made possible through recovery funds raised by GlobalGiving donors like you.
From learning about the economic importance of traditional ovens in the Afro-Mexican community of Pinotepa Nacional to walking down a street filled with freshly-painted murals breathing life back into the earthquake-stricken Huejotengo, field travelers were met with stories of resilience in each location that they visited. Here's what they'd like you to know about the project you've funded:
Centro de Accion para el Desarollo CODICE, Oaxaca de Juarez, Oaxaca
Current Project: Engaging the community in sustainable land-management practices, and recuperating economic losses after the earthquake through agroforestry production.
"At first, the local women I met with were reluctant to comment on the success of the program. As we began to visit the dozens of homes that were damaged or destroyed by the earthquake, the evidence of reconstruction was everywhere from wall reinforcements to complete home restoration. In this community, it is considered impolite to be self-congratulatory, and they preferred to let the tour of the completed work speak for itself."
AYOK A.C., Huejotengo, Morelos
Current Project: Strengthening women's economic empowerment post-disaster through furniture building workshops and a new entrepreneurship program designed to market avocados as the main economic good.
"I was very impressed with the confidence and empowerment that AYOK has achieved in the community of Huejotengo. They have given hope to many that it is possible to prevent future destruction and recover from an event such as the 2017 earthquake."
Manos que Reconstruyen Oaxaca, A.C., Ixtaltepec, Oaxaca
Current Project: Preserving the Zapotec culture and revitalizing the local economy through the creation of neighborhood murals and organizing traditional crafts workshops in marginalized communities.
"Community members come together to complete service projects around the community, like cleaning up the local river. Service credits can then be used to learn skills and complete activities at the community center (like hammock weaving and pottery). While the organization is relatively new (formed after the earthquakes), it is well-run and is well-respected by its constituents."
Promotora de Servicios para el Desarrollo, S.C., Zacatepec Mixe, Oaxaca
Current Project: Risk mapping to reduce vulnerability to future disasters; diversifying and improving family income through cultivating a variety of crops.
"My visit to PRODER turned into a class immersed in the culture, geography, ecology, and tourism of the upper region of the Mixe mountain range. The knowledge that Fernando (Program Director) has to share and his rich, local expertise made this site visit an incredible experience."
Thanks to your support of GlobalGiving projects like these we can fuel long-term recoveryof local communities affected by a disaster. That is why two years after the earthquake, with your help, we continue to build the capacity of our nonprofit partners in Mexico through grants, convening opportunities, knowledge sharing, and disaster preparedness workshops.
Many thanks for your support,
Andrea Osorio + the GlobalGiving Team