Dear friends,
Thanks to your support, GlobalGiving has made emergency grants to three of our partner organizations in Kenya. These grants will support the relief activities of GEMINI, Health and Water Foundation, and Sadili Oval, and allow them to respond to ongoing needs in their communities. Below are more details about these three organizations, quotes from the projects, and how they are responding in Kenya:
GEMINI —Stella Amojong Omunga, project leader Quote: "As I told you before, neither police batons nor the deliberate, systematic violence in the streets can dampen our spirits....the struggle has to go on!! Even with increased violence, we are planning to visit the camps today (say a prayer for us!) and distribute some food and water." Activities: GEMINI continues to meet the most fundamental needs of displaced families: Sleeping Tents, bags & Blankets, Mosquito nets, Supplementary foods for children, Sanitary towels for women, Infants' needs: napkins, porridge flour, clothes, Nutritional foods: beans, maize flour, rice and milk, Learning materials: Books, school uniforms. Click the links at the bottom of the update to see some photos Stella took in her town of Eldoret.
Health and Water Foundation—Evans Misati James, project leader Quote: "Thanks for your concern about our safety and just want to report to you that at Health and Water Foundation we are safe with our families but the community where we carry out our projects (Nyanza province, parts of Kisii and Nyamira) was badly affected. As Health and Water Foundation we have put together ten university students who are working for us as representatives in the rescue camps which are basically the police stations and churches around Kisii." Activities: HWF is mobilizing both partners and resources to address immediate issues currently facing Kenyans who have been affected by the humanitarian crisis. HWF assistance is helping the affected populations in the face of widespread violence and human rights abuse as well as delivering and household items, nutrition services, food assistance, clean water supply and improving sanitation. The urgent needs we are requesting funds to assist the displaced persons are:
1. Household needs in the form of clothes, and cooking utensils. Mosquito nets and sanitary pads for girls and women as well as Jerricans for water storage. 2. Education materials in form of school uniforms as most were lost during the skirmishes. 3. The areas of Health, nutrition, Water and sanitation are in urgent need of help especially in the camps where there is not enough water for all and therefore little or no effort to ensure its cleanliness. The absence of toilet facilities in these camps also poses a great risk as they are prone to cholera outbreak. 4. Food distribution. At least, three months supplies of food rations for the directly affected populations of kisii and kericho (maize flour, cooking oil, maize grains, beans and vegetables).
Sadili Oval—Dr. Liz Odera, project leader Quote: "We have been very busy since the problems began in Kibera. There has been a lot of tribal animosity that has made people, which, coupled with unfortunate wildness of youth gangs, led to even greater loss of life and economic livelihoods due to indiscriminate burning, raping and looting. Thereafter, many are now left hungry, there is a great shortage of water, and no electricity." Activities: 1. Assisting the Red Cross with security and mapping out of the community needs, so that food could distributed and made available more easily. 2. We are also, together with a team of 6 doctors, 8 nurses and a number of volunteers, running a medical camp within Kibera twice a week, offering much needed care to the sick and those who have been badlyinjured in the skirmishes. It costs US$5000 for medicines per medical camp 3. We are also seeking 1200 of the most vulnerable children and their families, and offering them food at Sadili every two days. Some of the children are lost, and our community coaches are working day and night to find them and organise some care for them. Click the link below to read more about the Sadili Oval response and see photos from Kibera.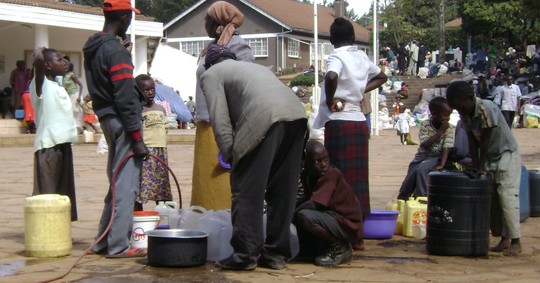 Links:
Attachments: