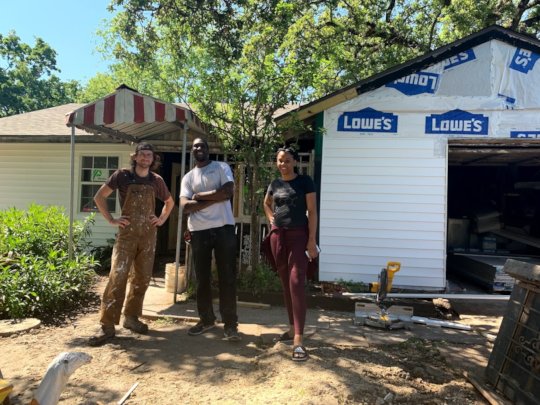 Harvey made landfall as a category four hurricane on August 25, 2017. 150 mph winds flattened homes and businesses along the once-booming tourist coastline, and heavy rains flooded south Texas an area the size of New Jersey.
This past April, I had the opportunity to meet with partners and community members that are still rebuilding their communities. I drove from Corpus Christi to Houston via Aransas, Rockport, Refugio and Victoria, learning about community-specific needs and how our partners are addressing them.
Port Aransas and Rockport County were Hurricane Harvey's ground zero. Around 40,000 structures were damaged or completely destroyed by Harvey's winds and accompanying tornadoes, and businesses along once bustling streets remain boarded up as local neighbors work to repair or rebuild their own homes. Rockport Hands of Hope has addressed thousands of minor home repairs and remains one of the go-to sources for recovery needs. From plumbing and electrical work to wind resistant window coverings (up to category 4 strength), Rockport Hands of Hope is undaunted by the steady flow of requests for assistance.
After leaving the coast I headed toward Victoria via Refugio County, a rural coastal community with a population of 7300. I visited with three families whose homes were severely damaged by Harvey, and remain so today -- caved ceilings, rampant mold growth, exposed electrical wires, a detached chimney. One family, the Castanedas, were featured in last year's Victoria Advocate Hidden in Plain Sight series, which explores inequality – and how Harvey exposed the gap between the people who could afford to rebuild and everyone else.
The Castaneda's story isn't unique to Refugio. In Houston I met with the Doucettes, a family whose home is being rebuilt by local West Street Recovery group. WSR was launched by a group of friends in the midst of Harvey during a spontaneous search and rescue (with an inflatable kayak) as the city streets turned to waterways. WSR works in areas with poverty levels above the national average and income levels below the Houston median. West Street Recovery is another partner that strives to "fill the gap" where insurance and federal recovery programs will not, and are prioritizing the unmet needs of low-income, socially vulnerable families. In addition to reconstruction, WSR provides workforce development training, community organizing and disaster preparedness programs for its community.
Before returning to DC, I met with partners approaching disaster recovery from a different angle. Attack Poverty has launched a pilot program that brings on a full-time mental health professional to assess the emotional well-being of survivors during case visits. Research demonstrates a major gap in providing mental health services to disaster victims, and Attack Poverty is incorporating it into their every-day programming to address this unspoken, yet critical need for dedicated support.
Looking to the future, the Houston Arts Alliance has teamed up with an emergency response specialist to educate the arts and culture community of Houston on disaster response and preparedness. A $1.2 billion industry in Harris County alone, museums, theatres, and small-businesses were hit with more than $50 million in direct damages by Harvey. The artist community is self-proclaimed to have been unprepared, which is why HAA is building out programming and workshops that will inform resilience planning and meet the needs of a multicultural, multilingual community.
By the end of my visit, I recognize a few common threads hold true: Harvey continues to disproportionately affect low-income, marginalized and otherwise vulnerable communities; there is a major gap in providing mental health support for survivors; and, Texans are [always] thinking about the next storm. We're proud to have partners who are still going strong two years later, undeterred by the infinite tasks that lie ahead; and we're grateful to have the means to provide support to those advocating for improved systems and infrastructure that will prepare communities for the next storm.
Other organizations we support include:
Harvey Home Connect
Victoria County Long Term Recovery Group
Urban Harvest
Coalition for Environmental Equity and Resilience
Houston Advanced Research Center
Bayou City Waterkeepers
Looking to the year ahead, GlobalGiving will continue to support grassroots, locally-led groups that are leading long-term Harvey recovery efforts and incorporating themes of disaster preparedness and resilience into their work. From food security projects to workforce development, regional climate research and nature-based resilience programming, GlobalGiving will invest in organizations that invest in the people they serve.