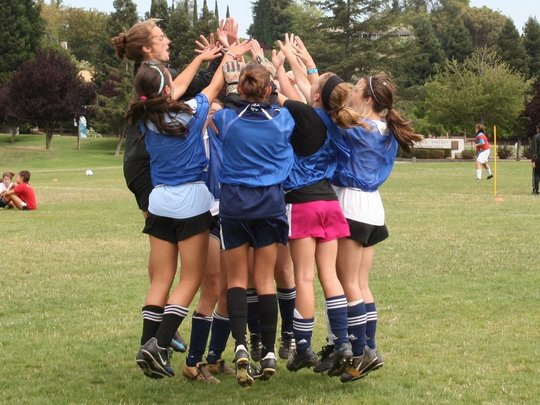 Thank you for supporting Julie Foudy Scholarships For Military Daughters this past month!
We raised $2,192 from 90 donors in July to support military daughters. This means that you helped provide two full scholarships for daughters of military servicemen to attend the Judy Foudy Sports Leadership Academy last week. Alan, the father of one of the scholarship recipients had this to say:
"I'm writing to say thank-you ... it's nice to know my 20 years of military service is still appreciated. Without your scholarship, my daughter's dream of attending the Leadership Academy would have remained just that and I would have been denied her endless smile as she reminisces about all her Chicago experiences. Thank you, again, for being such a positive influence on my daughter."
This month, we're pleased to announce that Solar Cookers for the School In Fiadanana is the project of the month for August 2011.
This project provides solar cookers to a Madagascar village school. Villagers currently use charcoal or wood-fired cook stoves in the village of Fiadanana but unfortunately this has led to massive deforestation. Solar energy is an alternative to using trees for firewood, but the price of solar cookers in Madagascar has made wide adoption of alternative cookstoves nearly impossible.
The leaders behind this project are working to develop appropriate cooking technologies for the village of Fiadanana, which they intend to introduce to the community through classroom training with village children. By using and testing this new technology in the school, children will learn first-hand about the benefits of solar energy and they can then teach their families.
An immediate benefit of introducing the cookers to the school will be the opportunity to feed the 140 students, most who come to school hungry. In the long run, project leaders hope to see a great reduction in deforestation around the Fiadanana village.
With the money that we can raise together as a club, we can provide the school with seven solar cookers and pots. Any remaining funds will go towards food supplies to feed the children.
Thank you for being part of the Project of the Month Club - it's exciting to know that together we can make a huge difference for generations of people living in this small village in Madagascar! We look forward to updating you on the amazing project that you will support next month!
Warm regards,
Mari and the GlobalGiving Team