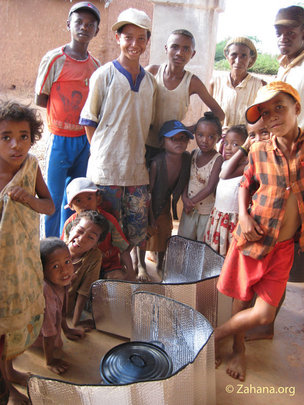 Thank you for supporting Solar Cookers for the School In Fiadanana this past month!
Together we raised $2,347 from 94 donors in August to provide ten solar cookers to the Madegascar village of Fiadanana. This is what Dr. Ihanta, founder of Zahana had to say:
"We feel honored to be part of the project of the month club at GlobalGiving. it is wonderful and very encouraging that our solar cooker project in rural Madagascar can inspire people so far away."
It's incredible to think about the impact of your combined efforts for this small village! Thank you!
This month we're pleased to announce that the September Project of the Month club funds will go to support the Safer World Fund in honor of the tenth anniversary of September 11th, 2001.
The Safer World Fund was created by Joyce Manchester, David Stapleton, and Gene Steuerle, three Americans who lost loved ones in the 9/11 attacks.
Gene, whose wife Norma was in the plane that hit the Pentagon, has reached out to numerous families and friends who also lost loved ones to terrorism. He, Joyce, and David created the Safer World Fund with the belief that education, health care, and economic opportunity in Afghanistan and Pakistan can counter the influence of extremists by weakening their base of community support.
Your September donations will be split amongst several projects working to build a world in which the appeal of lives lived in dignity, opportunity, and hope triumphs over the allure of extremism and its use of terrorist tactics. You can find a full list of the projects supported by the Safer World Fund here.
If you'd like to give to this fund beyond your monthly Club donation, the Fund's founders will be matching all donations at 50% starting on September 11, 2011. Please visit the project next Sunday or later to take advantage of the matching opportunity in honor of those whose lives were lost in the 9/11 attacks.
Thank you for being part of the Project of the Month Club, we continue to be humbled by the generosity of this group of donors. We hope that you feel proud seeing the impact of your giving on a regular basis. If you feel connected to this cause and others like it, would you consider spreading the word about the Club with your friends?
We are grateful for your generosity, and we look forward to updating you on the amazing project that you will support next month!
Warm regards,
Mari and the GlobalGiving Team