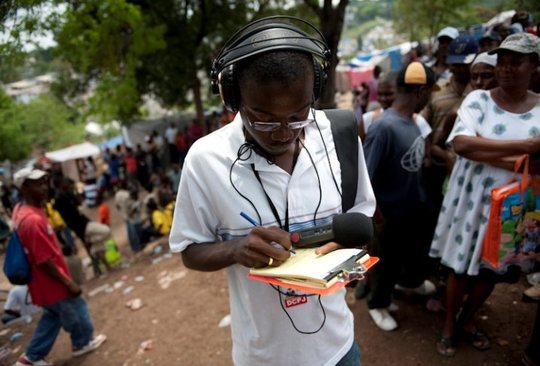 Hello GlobalGivers!
You are receiving this email because you donated to the GlobalGiving Relief Fund for Haiti Earthquake, and we want to update you on what our partner organizations have been implementing with your help. As you might expect, disaster relief doesn't last forever. Our partners have refocused their efforts on rebuilding and strengthening local capacity in areas such as health and information so that Haitians can continue rebuilding their homes, their communities, and their country long after disaster funds move on.
It has been over two years since a 7.0 magnitude earthquake struck just outside of Port-au-Prince, Haiti. According to UN OCHA, the earthquake killed over 200,000 and displaced approximately 2.3 million people. The GlobalGiving Relief Fund for Haiti Earthquake was established with your donations immediately following news of the quake.
International Medical Corps deployed an emergency team to Haiti immediately following the earthquake and is still active in Haiti today. They have been training local health workers to respond to medical needs in Haiti, including supporting existing cholera treatment centers by providing supplies and additional training. Another example of training provided by International Medical Corps: courses in emergency medicine for Haitian doctors. One such doctor, Dr. Hervé, was able to save the life of a patient by draining fluid from around his heart using what he'd learned after just one week of the course.
In partnership with Zanmi Lasante, a Haitian organization, Partners in Health runs hospitals and medical clinics and facilitates medical training programs, including a residency program that teaches doctors how to become family care physicians. In another important endeavor, Partners in Health is working with Haiti's Ministry of Health to build a new hospital, Mirebalais National Teaching Hospital (see video here). The teaching hospital will be equipped with up-to-date technology and equipment for Haitian medical students and patients, preparing the next generation of Haiti's medical practitioners to save lives every day.
In the months following the earthquake, the Internews Network found that its program, Enfomasyon Nou Dwe Konnen (ENDK), meaning "News You Can Use," was in extremely high demand. After producing over 450 programs, Internews is partnering with over 15 media organizations to exchange training and to build capacity so that its successful news format can be replicated by local organizations. In addition, Internews is supporting 19 Haitian researchers to create an independent research firm called BRESI, which provides bi-monthly research briefs to other non-governmental organizations and the Haitian government.
Haiti is rebuilding, but life is still difficult for many people. Over 500,000 people are still displaced from their homes and living in temporary camps. Cholera, a highly contagious disease, emerged in late 2010 and continues to threaten the health and lives of Haitians, with over 492,000 cases and 6,700 deaths associated with the disease as of November 2011.
Would you like to give to Haiti again? If you do decide to donate, you will be supporting the work of International Medical Corps, Partners in Health, Internews Network, and other GlobalGiving partners engaged in re-building a strong and healthy Haiti from the ground up.
Click to donate to the GlobalGiving Relief Fund for Haiti Earthquake.
Links: