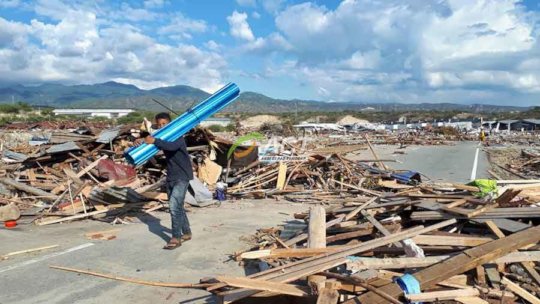 As reports began to spread of a massive 7.5-magnitude earthquake on the Indonesian island of Sulawesi on September 28, it was hard to believe some of the first images that reached the media, like the cellphone video of a 15 foot-high tsunami sweeping through the coastal city of Palu, or the aerial photos showing how soil liquefaction triggered by the earthquake leveled Palu's Balaroa neighborhood, destroying 1,747 homes.
In the days that followed, we started to comprehend the full extent of the devastation—the earthquake and tsunami had combined to claim 2,256 lives, injure 10,679, and displaced more than 206,000 people from their homes.
In response, thousands of generous GlobalGivers like you stood with the people of Indonesia in their time of need, donating more than $433,000 to fund community-led relief and recovery efforts by our trusted nonprofit partners. Here's a look at the progress so far:
In the months to come, we'll continue to keep you updated on the progress of the recovery. And thank you again, not just for donating to our relief fund, but for making the smart decision to donate cash, rather than physical goods. Giving money after a disaster allows for quicker and more efficient deployment of resources and supports, rather than disrupts, local economies.
Warmly,
Will Frechette + the GlobalGiving Team