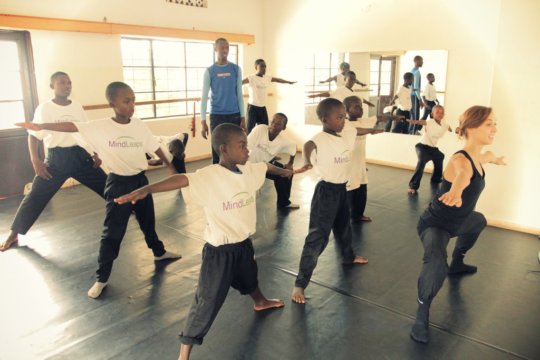 Dear Project of the Month Club,
It's a new year, which means new traditions, beginnings, and best of all? A brand-new Project of the Month selection for January 2016!
Before we get to that though, I'd like to share with you our 2015 Year In Review, where we've compiled 15 of the best stories from the GlobalGiving community from the past year. I think you'll be as inspired as we were after reading it.
Speaking of inspiring, let's recap what you and your fellow Project of the Month Club members accomplished in December.
Last month, 279 of you gave a total of $8,739 to support Rainforest Rescue's Adopt Vulnerable Rainforest in Australia project, which will go towards supporting the essential work at Rainforest Rescue's native plant nursery in Daintree, Australia!
In January, your monthly donation will support MindLeaps' Leap Ahead: Empowering Street Youth Through Dance project, which helps children living on the streets in Rwanda reintegrate into society through a three-phased approach: dance, vocational training, and youth advancement!
Rebecca Davis, the founder and executive director of MindLeaps, has this message for you:
"When I received this email from GlobalGiving, I was just looking at our budget for 2016 and wondering how we will manage to accept 25 new girls into our program in January. We have girls lining up in Kigali, Rwanda, asking to participate in our dance classes that help them build the self-esteem they need to make good decisions while living in difficult conditions. It was like a huge holiday gift to MindLeaps and all of these girls to know that they will have access to classes – and safety – in just a few more weeks."
And she already has a pretty good idea of how to put your support to good use:
"If MindLeaps received a donation of approximately $8,000 today, the funds would be used to accept 28 new street children into our program in Kigali, Rwanda. Upon entrance into our program, these children take 6 hours of dance classes each week that focus on essential learning skills: memorization, language acquisition, self-esteem, and teamwork and collaboration. They also receive a rice meal and porridge to supplement their lack of access to food while living on the streets or in dangerous slums around the capital city. The cost of these services – along with medical insurance – is $280 per child per year. For every $280, we can take one more child off the street. For $8,000, we will be able to take 28 children into safety and begin their transition to a stable life."
We're so proud to partner with organizations like MindLeaps that are committed to developing innovative programs that help children create a brighter future for themselves. And we're just as proud of you for continuing to support these brilliant projects each month.
Warmly,
Kevin Conroy + the GlobalGiving Team