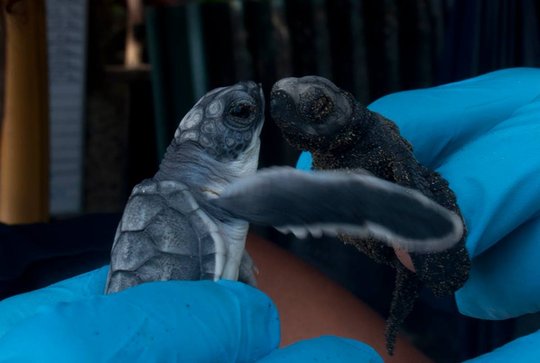 As every year, the nesting season n Playa Buenavista has been dynamic! Due to its seclusion, and lack of contamination, its almost as if the female population of Olive Ridley turtles on the northern pacific coast line, know. They know that if they come to nest here they will be protected, their eggs will be safe, and their babies have a higher chance of survival.
All of this has been possible this year thanks to the commitment of our staff and volunteers, and the generousity of unknown people from all over the world, who have contributed to this cause.
We have commenced the replacement of old, eroded materials in the hatchery, with stronger fencing, new meshing, and a semi permeable covering for the precious nests, who need an optimum temperature to produce equal amounts of male and female turtles.
The rainy season took its toll, bringing fragile nest temperatures down, but this covering saved them from flooding. Now its summer time, with soaring temperatires and scalding sun beating down on the hatchery, but this covering is keeping the nests, albeit slightly, shaded.
The results speak for themselves - up until October, we have managed to rescue 480 nests from natural predators such as racoons and crabs, and also from the tides and rain. These nests contained 42,626 eggs, all of which were protected 24 hours a day, which in turn produced 20,910 baby turtles.
So you could say that there are nearly 21,000 more turtles in the ocean than before..all thanks to the generosity of our supporters.
If the turtles could say thank you, they would.
Links: